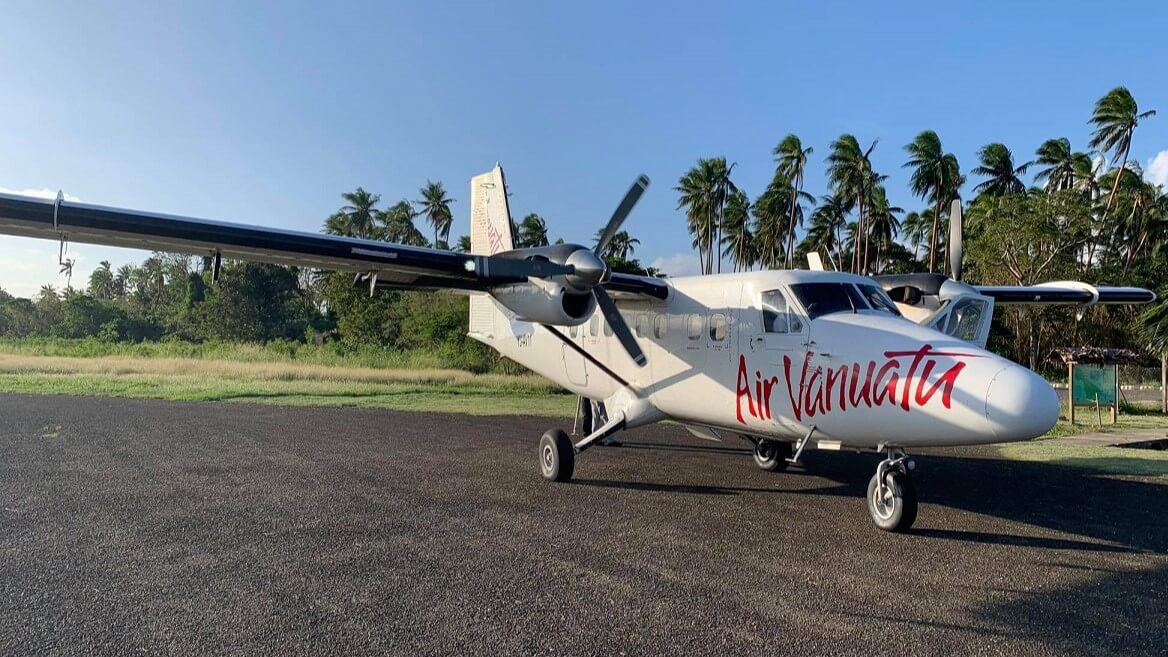 Air Vanuatu Tackling Pilot Shortage
Davy Lim, 28 Jul 2022
2 min

read
Pilot shortage has meant Air Vanuatu has been cancelling some domestic flights, but the national carrier has outlined a plan to hire more pilots.
Air Vanuatu, in a statement to the media, apologizes for the disruption to its domestic schedule that has led to the frequency of flights on some routes being reduced.
The carrier says it has a shortage of qualified pilots for its domestic fleet, a problem that is further aggravated when pilots call in sick.
It says it only takes two pilots to call in sick, at the same time, for the domestic flight schedule to be impacted.
The airline says it has recruited additional pilots who will be starting in the coming weeks.
The airline's domestic fleet comprises of: one ATR 72, one Britten Norman Islander and two De Havilland Aircraft of Canada Twin Otters.
Air Vanuatu announced in June that, with help from government funding, it is buying two more Twin Otters that it will deploy in late 2022 and that it also plans to buy a second ATR by year-end.
Frequency of flights to the islands of: Maewo, Pentecost, Ambrym, Malekula and Banks have been reduced, says the airline, adding that the priority is to maintain frequency to the islands of Tanna and Espiritu Santo, the latter being Vanuatu's largest island.
Air Vanuatu's international flights, that use Boeing 737, have been unaffected, it says.
But Vanuatu's prime minister, Bob Loughman, has publicly questioned the carrier why the captains on the 737 are foreigners rather than locals.
Air Vanuatu cites the cost of pilot training and licensing requirements as the reason, but adds it is working with the Civil Aviation Authority of Vanuatu (CAAV) to address this issue.
Picture Source: Air Vanuatu
Related Stories:
Vanuatu Domestic Airport Reopening After 14 Years (30 June 2022)
Air Vanuatu Cancelling A220 Order To Focus On Domestic Fleet Expansion (10 June 2022)
Vanuatu Government To Pay Lease Payments Owing On Air Vanuatu Twin Otter (7 June 2022)
Pacific Island Tourism Unlikely To Return To Pre-COVID Levels In Next Two Years (23 August 2021)
Davy Lim
Davy is based in Singapore. He is passionate about aviation and has flight experience in various single engine piston aircraft, gliders and seaplanes from his time in the United States. Davy holds a BA in Economics from the State University of New York in Buffalo.
Related posts
SUBSCRIBE TO OUR NEWSLETTER