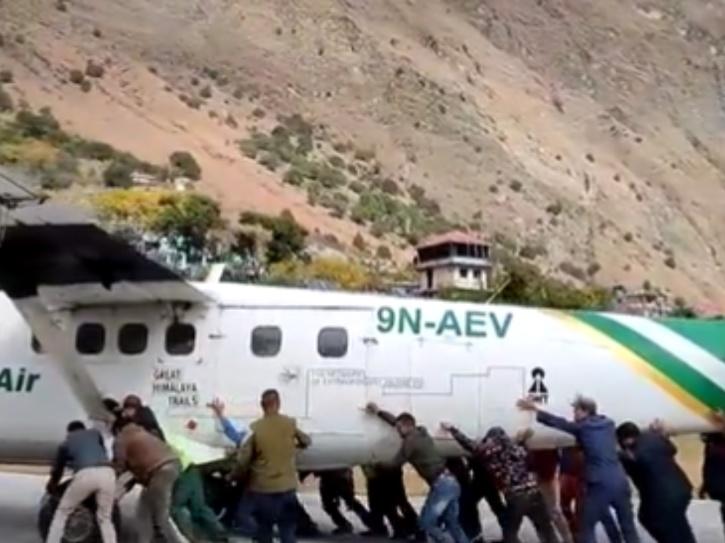 A 19-seat Twin Otter aircraft from Nepal's Tara Air, the domestic subsidiary of Yeti Airlines was stranded on the airport runway after its tire burst, leaving passengers and airport officials to manually push it off out of the way so airport flight operations could resume.
The incident happened on 1 December and involved Tara Air's De Havilland Canada Dash 6-300 Twin Otter with local registration 9N-AEV, local media outlets report.
The aircraft reportedly took off from Simikot Airport in the Humla district of Karnali province and landed at Bajura Airport in western Nepal's Sudurpashchim Province when its rear tire exploded during landing.
Reports say the pilot land safely the aircraft, through emergency manoeuvres, but the aircraft was unable to be moved off the runway and was left stranded, causing delays at the airport because other aircraft were unable to land.
Passengers and airport officials then rallied together and decided to manually push the aircraft off the runway to let the airport resume operations.
A video captured on site shows more than 20 people working hand in hand to push the aircraft along, with more and more people joining in to help. The video has gone viral on various social media platforms.
A spokesperson for Tara Air tells Online Khabar that another aircraft of the airline later arrived from Nepalgunj bringing in new tires and engineers to repair the plane damage.
Picture / Video Source: Khagendrakhadka6124 tik tok
Related Stories:
Nepal Airlines Aircraft Lands At Wrong Airport (26 November 2021)
Ong Jeng Yang
Based in Singapore, Ong Jeng Yang has more than four years of experience working in the media industry.
Related posts
SUBSCRIBE TO OUR NEWSLETTER