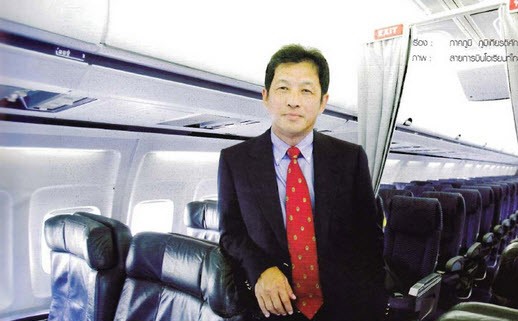 Udom Tantiprasongchai was the first in Thailand to establish a low-cost airline and he was also the airline executive who pioneered Thailand's inbound tourism charter market from China.
It could be said he was a visionary for that, but he was also unconventional.
His airline Orient Thai Airlines operated Boeing 747-200s internationally, but also baffled industry watchers by flying the aging long-haul widebodies on domestic routes such as Bangkok-Phuket.
In an industry that sprouts the mantra of high aircraft utilization to achieve profitability, visitors to Bangkok's Suvarnabhumi Airport would see many of Orient Thai's 747-200s perpetually at the airport's remote parking bays.
Tantiprasongchai passed away on the 16 January of heart disease. He was born in Bangkok in 1955, the son of a Thai-Chinese businessman who ran a leather tanning business.
His father sent him to Taiwan to be educated and he later went to Hong Kong to be trained as an aircraft maintenance technician. His first job was working in Japan as an assistant and driver to a Japanese businessman.
He also spent time helping to manage his father's tannery business and pioneered some new methods that accelerated the tanning process, creating leathers that were much cheaper to produce.
But aviation was his passion and his early experiences studying in Taiwan and working in Japan influenced his later career.
When he needed to buy 747s he bought from Japanese carriers that there were retiring their older 747-200s.
Udom spoke fluent Chinese, so it was natural that he would be the one who would pioneer the market for inbound tour groups from China into Thailand, a business model other Thai carriers would replicate years later. China is now by far the largest source of foreign tourists into Thailand.
He was also the first in Thailand to see the potential of the low-cost carrier business model. He launched low-cost carrier One-Two-Go in December 2003. Thai AirAsia and Nok Air launched in 2004.
Udom lacked the financial muscle of Thai AirAsia – backed by Thai conglomerate Shin Corp. – and Nok Air, which was backed by Thai Airways International. He also lacked the marketing flair of adman Patee Sarasin, CEO of Nok Air, and former Warner Music executive Tassapon Bijleveld, CEO of Thai AirAsia.
But he was a capable businessman and his low-cost carrier competed effectively against Thai AirAsia and Nok Air.
Udom's choice of fleet was also unconventional. While Thai AirAsia relied on cheap financing to acquire new aircraft and Nok Air turned to aircraft leasing companies, Udom preferred to buy and own aircraft.
Nok Air and Thai AirAsia operated newer model 737s and A320s respectively. One-Two-Go flew McDonnell Douglas MD-80s, an older type that most airlines had already phased out.
When asked why he chose MD-80s, when everyone else operated A320s or 737s, he said it was because having a different type to everyone else, meant it was harder for others to poach his pilots, as they would have to pay to put his pilots through simulator training which was expensive.
One-Two-Go eventually gave in to competition, ceasing operations in July 2010. Its reputation never recovered from the fatal crash on 16 September 2007 when one of its MD-80s had an accident at Phuket airport, killing 90 of the 130 passengers on board.
Orient Thai continued as a charter airline though, operating 747-200s mostly to Hong Kong and China. But the widebody carrier ceased operations in October 2018.
Then on January 5 of this year the Royal Thai Government Gazette published an announcement declaring Orient Thai bankrupt and that Thailand's Legal Execution Department is to sell the airline's remaining assets to pay the airline's debts.
Leithen Francis
Leithen is based in Singapore and has over 17 years' experience working for news organisations. He is the former deputy Asia editor of Flightglobal and the former Asia editor of Aviation Week. Leithen has a BA in journalism from RMIT University in Melbourne, Australia.
Related posts
SUBSCRIBE TO OUR NEWSLETTER