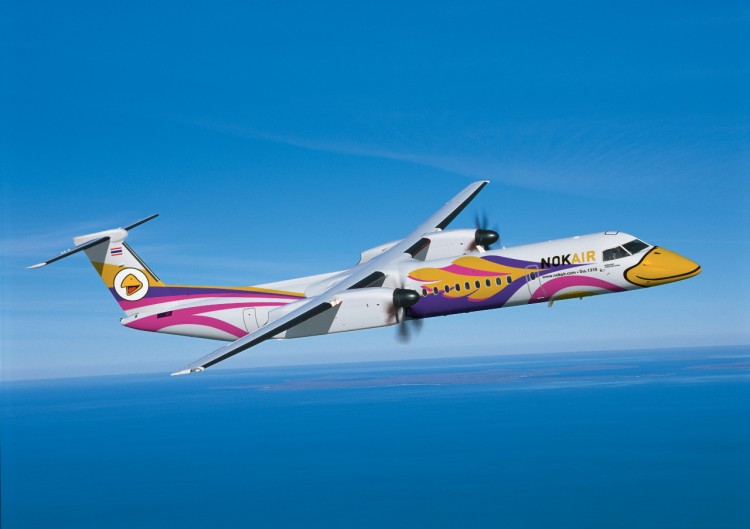 Thai low-cost carrier Nok Air's losses for the first half of 2020 more than doubled due to the pandemic-related restrictions on domestic and international travel.
Net losses rose to 3,750.61 million baht (US$120.09 million) from 1,187.7 million baht in the first half, Nok Air tells the Bangkok stock exchange. This was largely due to a 51% collapse in passenger numbers to 2.1 million from 4.26 million from the same period last year, with a corresponding 44% reduction in flight movements to 17,592 from 31,562.
The airline reported a loss of 782 million baht for the second quarter, three months ending 30 June, as compared to a loss of 919 million for the same period last year.
International operations came to a virtual standstill in the second quarter as the Thai civil aviation authority imposed an indefinite ban on commercial flights in April, the airline says. But Nok Air continued to fly domestically despite restrictions on travel, helping it maintain a 79% cabin factor in the first half, down from 88% in the same period last year.
But it reduced available seat kilometres (ASKs) by 78% in the second quarter and 45% for the first-half.  Second-quarter revenue passenger kilometres (RPK) fell 80% and first-half RPKs were down 51%.
Nok Air says it continued to operate domestically during the local shutdowns, because it "considers air transport to be vital to the community even if it results in financial loss."
It also accrued foreign exchange losses on its leasing contracts, stemming from a new accounting standard in Jan 2020, it says. Another financial loss came from July's liquidation of NokScoot, its joint venture with Singapore Airlines, it adds.
These losses caused Nok Air to tip further into negative equity territory, with total negative shareholders' equity growing 71% to 5,925.04 million baht from 3468.21 million baht, it says. This is despite a successful 1.55 billion baht fundraising exercise through the issue of new shares in February.
Nok Air operates a fleet of 14 Boeing 737-800s and eight De Havilland Canada Dash 8-400s.
Aircraft utilisation hours fell 77% in the second quarter to 2.17hr, and 43% lower in the first half to 5.64hr.
Edward Eng
Edward is based in Singapore. He writes stories on regional aviation across the Asia-Pacific region and has a background on covering socio-political issues. Edward holds a BA (Hons) in Philosophy, Politics and Economics from the University of Warwick in the UK.
Related posts
SUBSCRIBE TO OUR NEWSLETTER