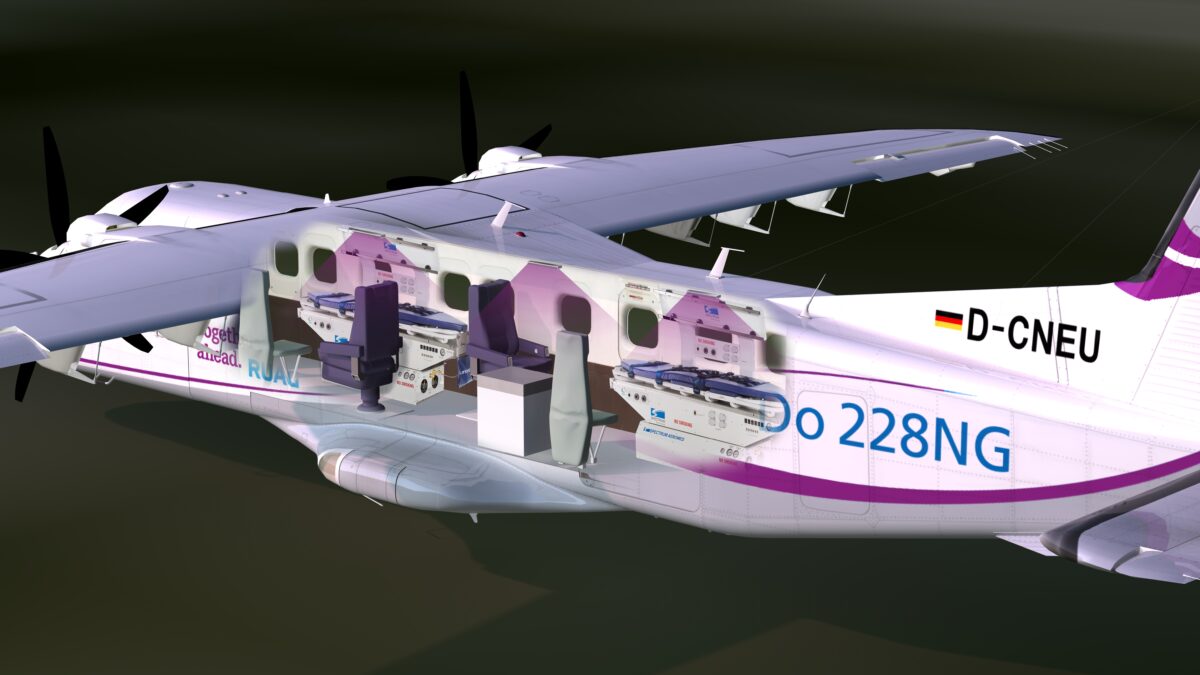 A new quick change medevac version of the Dornier 228 is being developed by the aircraft's manufacturer RUAG, in response to demand from commercial operators and it is also developing a version that will include pharmaceutical fridges to transport COVID-19 vaccines. 
Militaries have used the Dornier 228 for medevac, but now the aircraft-maker has developed a quick-change medevac version that allows commuter airlines to convert their passenger aircraft to medevac within one hour, says Robert Hierle, engineer for mission systems and special equipment for RUAG Aerospace Services' Dornier 228 programme. 
"We have a base unit, that is like a housing, for: oxygen tanks, compressed air and power supplies," says Hierle.
"The base unit is installed on the seat rails after taking out the passenger seats. On top of the base unit, you can install whatever medical equipment you want to, whether it be: stretchers, incubators, isolation chambers, etc. You can do many different configurations and can put in the medical equipment you want to."
He says most of the equipment can be powered by battery pack, but if you need additional power the aircraft has two power generators.
The medevac aircraft can also be fitted with ultra violet C light (UV-C) for disinfecting the cabin. The UV-C lamps are installed in the ceiling and are to be used between flights. Additional air ventilation outlets, known as air gaspers, can also be installed. 
They aim to have quick change medevac version certified by the European Aviation Safety Agency (EASA) early this year, says Bernd Zapf, head of engineering and design organisation for the Dornier 228 at RUAG Aerospace Services. As the type certificate holder, it is applying for a service bulletin for the modification. 
He says they developed the medevac quick change variant, because some operators requested it. Once EASA approves, the certification can then be validated by other civil aviation regulators around the world, including those in Asia Pacific.  
Hierle says the Dornier 228 medevac aircraft is ideally suited for the Asia Pacific, because it is a region with many airports and airfields with very short or improvised air strips. This is because there are many remote islands as well as very mountainous or densely forested areas, he says.
These challenging locales require a rugged aircraft with tremendous short take-off and landing capability such as the Dornier 228, he says, adding that road transport and sea ferries are often inadequate for medevac.  
Hierle says a key benefit of the Dornier 228, over other similar size aircraft, is it is faster and has more range and payload. It has a 1,300 nautical mile range, a maximum cruising speed of 230+ KTAS and maximum take-off weight (MTOW) of 6,400 kilograms. 
"The medevac version doesn't even come close to the aircraft's MTOW, so you can also carry additional cargo if need be," says Hierle. The extra-large cargo door that is already certified will remain and is more than sufficient for the medevac version, he says, adding that the extra-large cargo door makes it easier to load patients on stretcher. 
Hierle says they also have a loader so the stretcher can be loaded onto the aircraft flat and horizontal to the ground. He says the loader is important because it is designed to load an Epi Shuttle, isolation chambers which are generally very heavy.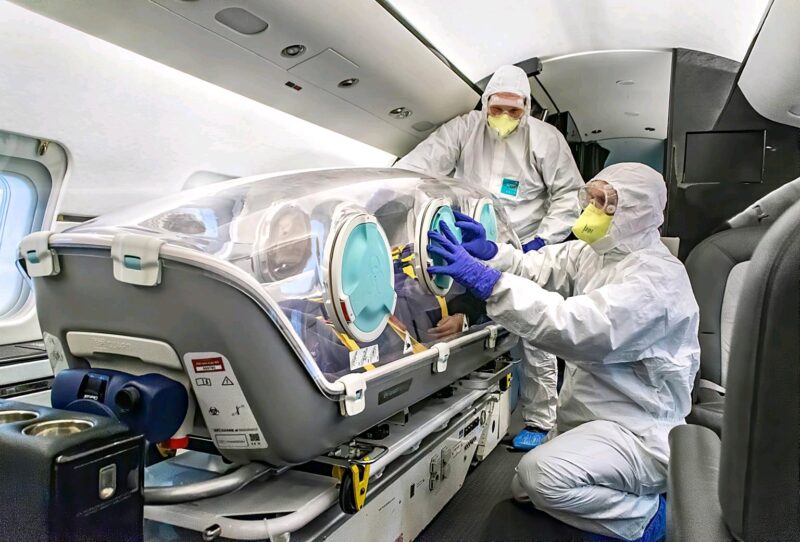 In a separate development, the aircraft manufacturer is also working on a version of the Dornier 228 that will incorporate pharmaceutical fridges, so the aircraft can be used to transport COVID-19 vaccines. 
Vaccines generally need to be stored at very low temperatures; minus 20 to minus 70 degrees Celsius. Air cargo companies have been putting the vaccines in boxes packed with dry ice, but there are special freezers designed for storing vaccines. 
Zapf says there are places in the world where the Dornier 228 would be very useful for medevac and for transporting vaccines. He cites as an example places in Europe such as the Channel Islands as well as the islands off the German and Italian coast. 
Photo: RUAG MRO International
Edward Eng
Edward is based in Singapore. He writes stories on regional aviation across the Asia-Pacific region and has a background on covering socio-political issues. Edward holds a BA (Hons) in Philosophy, Politics and Economics from the University of Warwick in the UK.
Related posts
SUBSCRIBE TO OUR NEWSLETTER