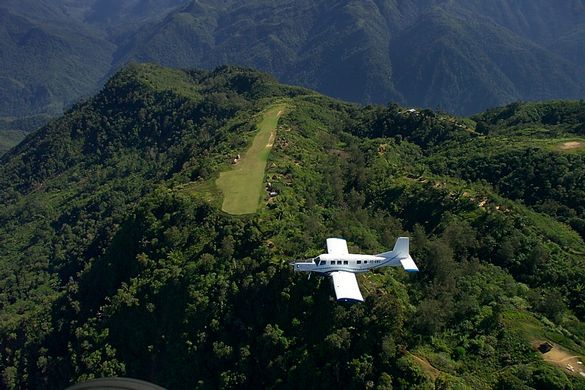 Private charter operator Niugini Aviation Services has crashed another Pacific Aerospace P-750 in a remote part of the Papua New Guinea highlands, making it the airline's second mishap at the same airport within nine days.
Local newspaper The National, quoting PNG's Accident Investigation Commission (AIC), says the incident, involving the airline's PAC-750 with registration P2-BWC, occurred on 26 November.
AIC says the Niugini Aviation Services aircraft was carrying five people, including the pilot, when it crashed during landing at Sandaun province's Tekin airstrip. No casualties were reported.
AIC chief commissioner Hubert Namani told The National the incident is a major safety concern for travellers and the Tekin community as there have been two incidents in nine days at the same location, involving the same operator.
"For safety purposes, the AIC has recommended the Civil Aviation Safety Authority to prohibit operators from conducting fixed-wing operations into Tekin until the airstrip is deemed safe for such operations," he says, adding that the airstrip is now declared closed to allow an on-site investigation.
Smart Aviation Asia Pacific previously reported that the first incident happened around 09:30hr local time on 18 January involving Niugini Aviation Services' PAC-750, with registration P2-BWE.
The aircraft carrying eight people reportedly ran off Sandaun province's Tekin airstrip, during a landing roll, and into a ditch.
Aviation-safety.net reports that the damage to the P2-BWC aircraft is more substantial than the first incident, which includes nose leg, engine, propeller and fuselage damage.
Picture Source: facebook.com/niuginiaviation
Related Stories:
Niugini Aviation Services PAC 750 Significantly Damaged After Skidding Off Mountain Airstrip, No Injuries Reported (20 January 2022)
Ong Jeng Yang
Based in Singapore, Ong Jeng Yang has more than four years of experience working in the media industry.
Related posts
SUBSCRIBE TO OUR NEWSLETTER