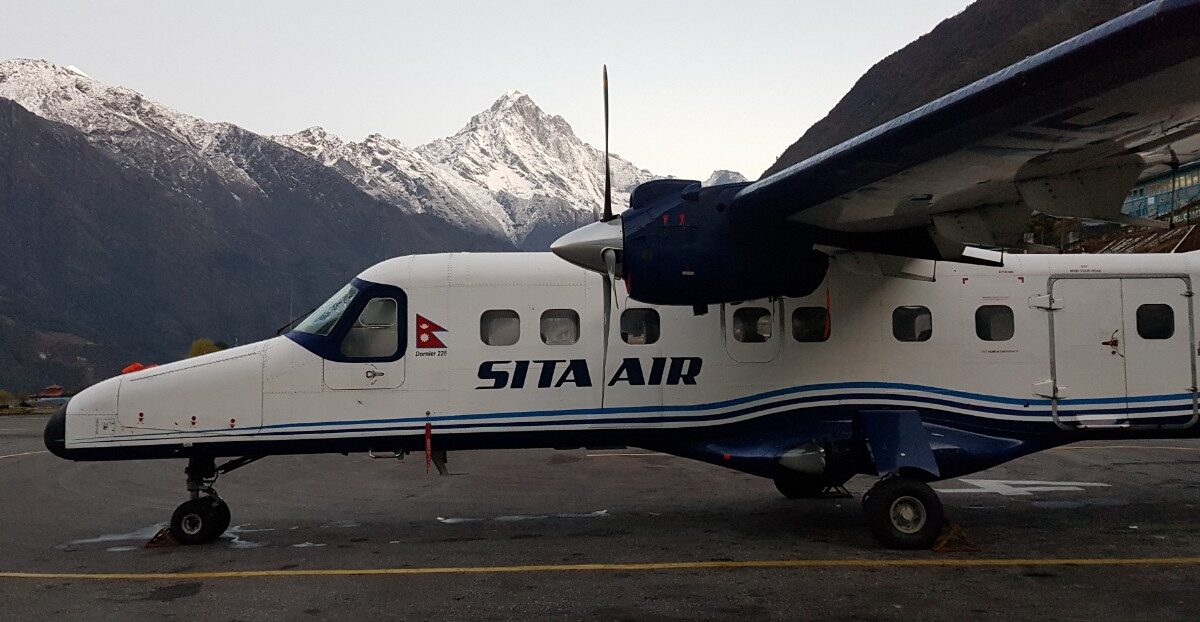 The fast spread of the new COVID-19 variant across Europe is threatening to end hopes that the 2021 spring season could bring relief to Nepal's hard-hit mountain flight operators, such as Sita Air.
Operators of short-takeoff-and-landing (STOL) aircraft rely on the scale of Himalayan tourism industry and also the higher ticket prices foreign tourists can afford, Sita Air managing director Rajendra Singh tells Smart Aviation APAC. This means that although domestic tourism has been relatively resilient, even in recent months, it is unlikely to provide the profitability required to sustain STOL operators, he adds. Sita Air has a fleet of four Dornier 228s, but has reduced capacity by putting two in storage.  The airline operates 228s, because of the aircraft's range and STOL capability.
Other airlines have tried to maintain capacity by slashing prices and launching new tour packages pitched at domestic tourists, Singh says. But Sita Air does not intend to compete too much in that market, as there is insufficient critical mass to support all the mountain flight operators, he adds.
Sita Air prefers to maintain prices and network connectivity for essential travel to places like Simikot, as well as help aid organisations fly food and medicines to western Nepal, Singh says.
"At the moment, bookings are not encouraging. Aside from old bookings for the 2020 season that have been rolled over to 2021, in order to avoid cancellation fees, there have been almost no fresh bookings for the mountains," he adds.
This is due to the uncertainty around international travel, especially because the new COVID-19 variant is starting to bring major parts of Europe into lockdown, he says. The new, more infectious variant has just been found in India, so the upcoming months look precarious for travel even though cases are currently falling in Nepal, he adds.
Sita Air has decided that it is not worth taking chances with the spread of the virus, Singh says. It is the only domestic airline to require passengers to have a negative polymerase chain reaction (PCR) test on hand before flying, even though the law does not require it and such a requirement might turn away passengers, he adds.
Singh says he caught COVID-19 earlier last year but has since recovered. Sita Air was one of several the industry whose staff were infected during the outbreak in 2020's second-half, he adds. About ten to 12 Sita Air staff were infected, he says.
"It is very difficult to say what the recovery path is like for mountain flights because at the end of the day, it will be totally dependent on tourism. For Lukla, Jomson and flights to the mountains from [the gateway city] Pokhara, there aren't any promising signs. The road forward looks the same as how it looked in 2019," Singh says.
Singh told Smart Aviation APAC last year that the airline operates Dornier 228s because it is popular with passengers and the airline feels it is a more technologically capable STOL aircraft and more reliable to operate in Nepal, which has some of the world's most challenging airports.
Edward Eng
Edward is based in Singapore. He writes stories on regional aviation across the Asia-Pacific region and has a background on covering socio-political issues. Edward holds a BA (Hons) in Philosophy, Politics and Economics from the University of Warwick in the UK.
Related posts
SUBSCRIBE TO OUR NEWSLETTER