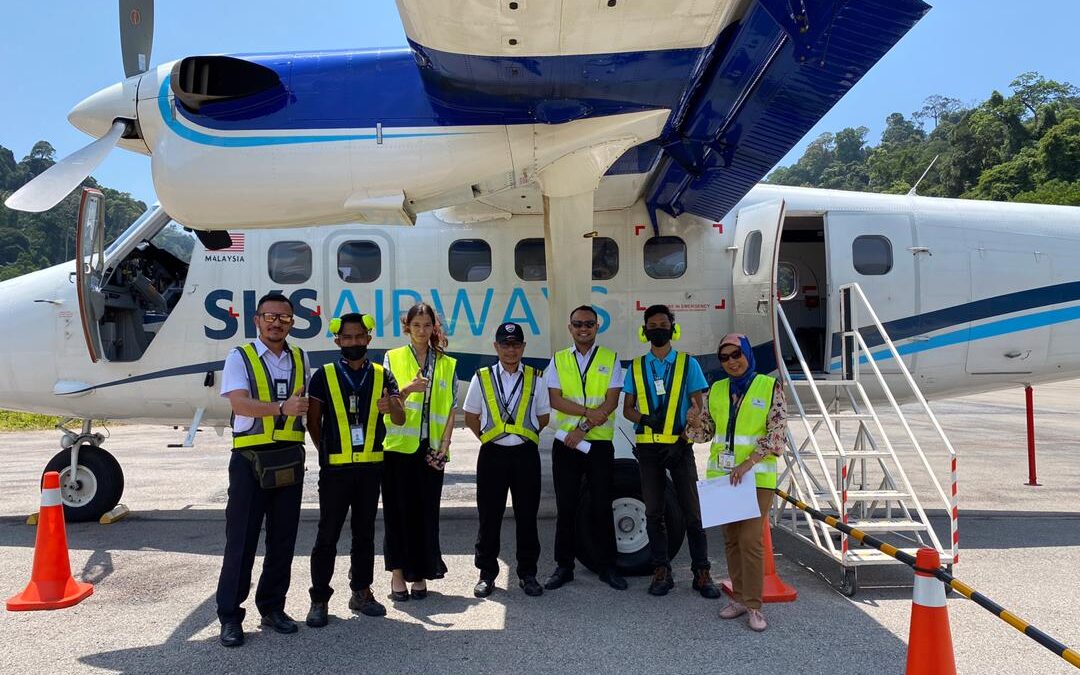 Updated article with exact launch date this month
Malaysian startup SKS Airways has received the regulatory approvals for its operations and is launching services on 26 January with flights from Kuala Lumpur's Subang Airport to Malaysia's resort island of Pangkor using De Havilland Aircraft of Canada Twin Otters.
SKS Airways' chief operating officer, Ismail Taib, says on social media that the launch of Subang-Pangkor services on the 26 January will be followed by the launch of services from Subang to Redang Island on 30 January. 
Taib told Smart Aviation Asia Pacific earlier today that the airline has received all the licenses for its flight operations, including its air operator certificate (AOC), and would be launching services this month.
He says the airline received its first Twin Otter in 2019 and a second in 2020, but the airline's launch of operations was delayed due to the pandemic. Both Twin Otters are Series 300 aircraft purchased from Switzerland's RUAG MRO International. 
SKS Airways is based in the southern Malaysian city of Johor Bahru, bordering Singapore, but Taib says the first scheduled services will be from Kuala Lumpur's Subang Airport.
Pangkor is a resort island about 170km northwest of Kuala Lumpur that is famous for its beaches. Pangkor Airport has a 792m-long runway (2,598 ft). The airport has been closed for several years, but local news reports, quoting Perak state government official Nolee Ashilin binti Mohammed Radzi, says the airport is due to re-open on 22 January.
Redang Island is in the state of Terengganu, about 490km from Kuala Lumpur. It is another popular tourist destination, known for its crystal clear waters and white sandy beaches, allowing for water leisure activities. Redang Airport has a 940m-long (3,084 ft) runway.
Berjaya Group, which owns two resorts on Redang Island, has Berjaya Air which operates an ATR 42 passenger aircraft between Subang and Redang. 
Taib says Malaysia is opening up, but domestic travel is hugely dependent on government regulations.
"Our two shot vaccination rates are around 95%, if the rate for the third booster shot progresses as well, the demand could probably get close to pre-COVID 19 levels before the year ends," he says, adding that tourism in the country is recovering, with more people looking to travel.
In terms of future plans, Taib says they intend to get two more -300 Twin Otters so the fleet is consistent and uniform, but there is no exact timeline.
Smart Aviation Asia Pacific previously reported the airline is recruiting ATR cabin crew and pilots on its social media.
Taib clarifies that "we are definitely committed to growing the airline, but the current operation needs to be stabilized before moving onto higher capacity aircraft." ATR is in the airline's future plans, he adds. 
Picture Source: SKS Airways Twitter
Related Stories:
Malaysia's SKS Airways Poised To Launch Operations (3 November 2021)
Malaysia's SKS Airways Plans To Operate ATRs In Addition To Twin Otters (13 October 2021)
Malaysia's SKS Airways Receives Second Twin Otter (23 December 2020)
Ong Jeng Yang
Based in Singapore, Ong Jeng Yang has more than four years of experience working in the media industry.
Related posts
SUBSCRIBE TO OUR NEWSLETTER