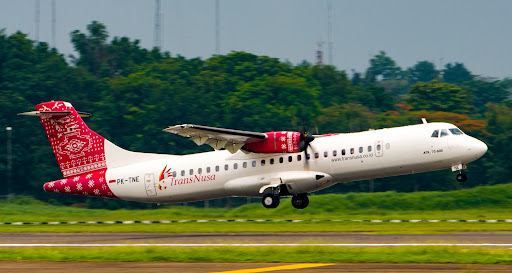 Domestic carrier TransNusa is re-applying for its air operator certificate (AOC) after more than a year-long hiatus and is seeking to restart with ATR aircraft early next year.
Bayu Sutanto, TransNusa managing director, tells Smart Aviation Asia Pacific the airline halted its operations back in early September last year due to the pandemic and has never flown since.
"There are requirements for airlines to provide a certain number of flights each year, but because of the situation, we were unable to fly, so our AOC has expired," he adds.
Sutanto says TransNusa is preparing to resume its services, and has re-applied for its AOC last month under the same company name.
"As for when we will be able to fly, it largely depends on when the airline will get the certificate. We expect to have the AOC in December this year or early January next year, so our flights could possibly resume in February 2022 at the latest," he says.
The airline previously operated ATR 42 and ATR 72 aircraft and Sutanto confirms it plans to resume services with the same aircraft types.
Sutanto says Indonesia's domestic air travel market has yet to fully recover, but the situation is improving little by little. This is another reason why the airline is gearing up and preparing ahead of time, he adds.
"There is traffic coming from the islands to the mainland, because air travel is still the more accessible option. However domestic travel between cities is still greatly affected since people are opting to drive and use the highway instead," he clarifies.
Sutanto says while air travel as a whole will gradually improve, he does not expect demand to reach pre-pandemic levels, both domestically and internationally.
"It is hard to predict the situation due to COVID-19, but our main focus now is to obtain the AOC and get the airline up and running," he says.
Picture Source: asiatraveltips.com
Related Stories:
China Aircraft Leasing Orders 30 ARJ21s, Plans to Lease Aircraft to Indonesian Airline TransNusa (9 January 2021)
TransNusa Acquiring Five More ATRs (16 January 2019)
Follow us on Facebook, Twitter and Linkedin for more news updates.
Ong Jeng Yang
Based in Singapore, Ong Jeng Yang has more than four years of experience working in the media industry.
Related posts
SUBSCRIBE TO OUR NEWSLETTER