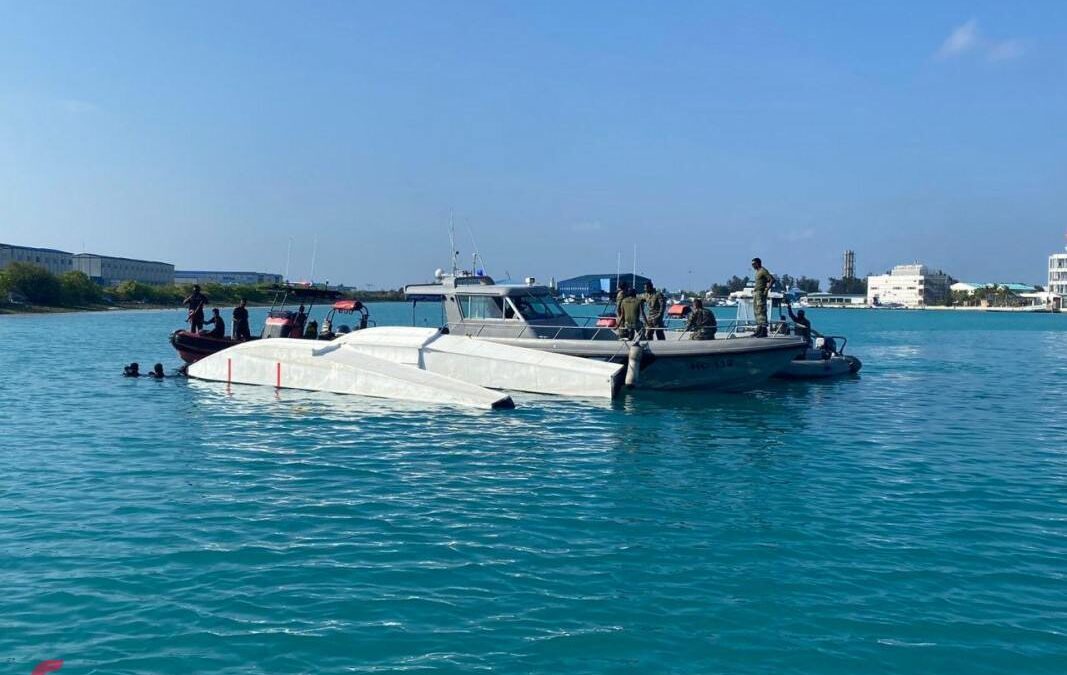 Stories include an air crash involving a Twin Otter seaplane in the Maldives, India's Indigo adding around 10 ATRs this year, India's SpiceJet to buy Twin Otter seaplane, India's loss-making TruJet reportedly seeking investors, Air Seychelles may go into administration and Cambodia airport development put on hold due to pandemic.
Twin Otter Seaplane Flips Upside Down On Landing In Maldives Lagoon Injuring Two
A De Havilland Aircraft of Canada Series 300 Twin Otter floatplane operated by Maldivian carrier Manta Air ended up submerged upside down after trying to land at Male Velana International Airport's seaplane lagoon.
Two of the nine people on board the aircraft, local registration 8Q-RAE, were injured.
Picture credit: raajje.mv
India's Indigo Adding Around 10 ATRs This Year
India's largest domestic carrier is adding around 10 ATR 72-600s this year. It has sent offer letters to 32 pilots.
India's TruJet Reportedly Seeking A New Investor
Indian regional carrier TruJet, which operates ATR 72s and is based in Hyderabad, is reportedly seeking a new investor.
A report in The Hindu business newspaper quotes two unnamed sources as saying TruJet is losing money and is seeking an investor that can take on some of its debt and inject fresh capital into the business.
It is a relatively small airline that operates less than 10 aircraft, a mix of ATR 72-500s and ATR 72-600s.
K. Pradeep, the group director of TruJet's owner Megha Engineering and Infrastructure, has responded to the report saying the airline is not seeking a new investor.
India's SpiceJet To Buy Series 300 Twin Otter Floatplane
India's SpiceJet plans to acquire its own De Havilland Aircraft of Canada Series 300 floatplane, because it has found it impractical wet-leasing such aircraft from the Maldives.
The Indian carrier launched a seaplane service in October linking  Ahmedabad to Kevadia, but it has suspended the service twice because the wet-leased aircraft must return regularly to the Maldives for scheduled maintenance.
A SpiceJet official, involved in aircraft maintenance, told India's Sunday Express newspaper that SpiceJet now plans to purchase its own Series 300 Twin Otter floatplane and is recruiting personnel experienced in maintaining floatplanes.
Air Seychelles May Go Into Administration To Clear US$38 Million Debt
Air Seychelles, a loss-making airline owned by Etihad and the Seychelles Government, may have to go into administration to clear its debts and emerge purely as a domestic carrier.
The airline's chief executive, Remco Althuis, says administration is one of the options being considered, so the airline can overcome its debut burden, of more than US$38 million, to Etihad and bond holders.
He says the airline incurred heavy losses from operating international services to Hong Kong, Paris and other European destinations. It may be better for the airline to focus on domestic services and ground handling, he says, echoing an idea that the country's president Wavel Ramkalawan has suggested.
Air Seychelles operates two A320neo and five Viking Air Series 400 Twin Otter aircraft.
Cambodia's Koh Kong Airport Development Put On Hold
A US$40 million new airport development in Cambodia's coastal province of Koh Kong has been delayed indefinitely because COVID-19 has put a dampener on investment.
The airport's investors are Bangkok Airways and Cambodian property developer LYP Group.
Leithen Francis
Leithen is based in Singapore and has over 17 years' experience working for news organisations. He is the former deputy Asia editor of Flightglobal and the former Asia editor of Aviation Week. Leithen has a BA in journalism from RMIT University in Melbourne, Australia.
Related posts
SUBSCRIBE TO OUR NEWSLETTER