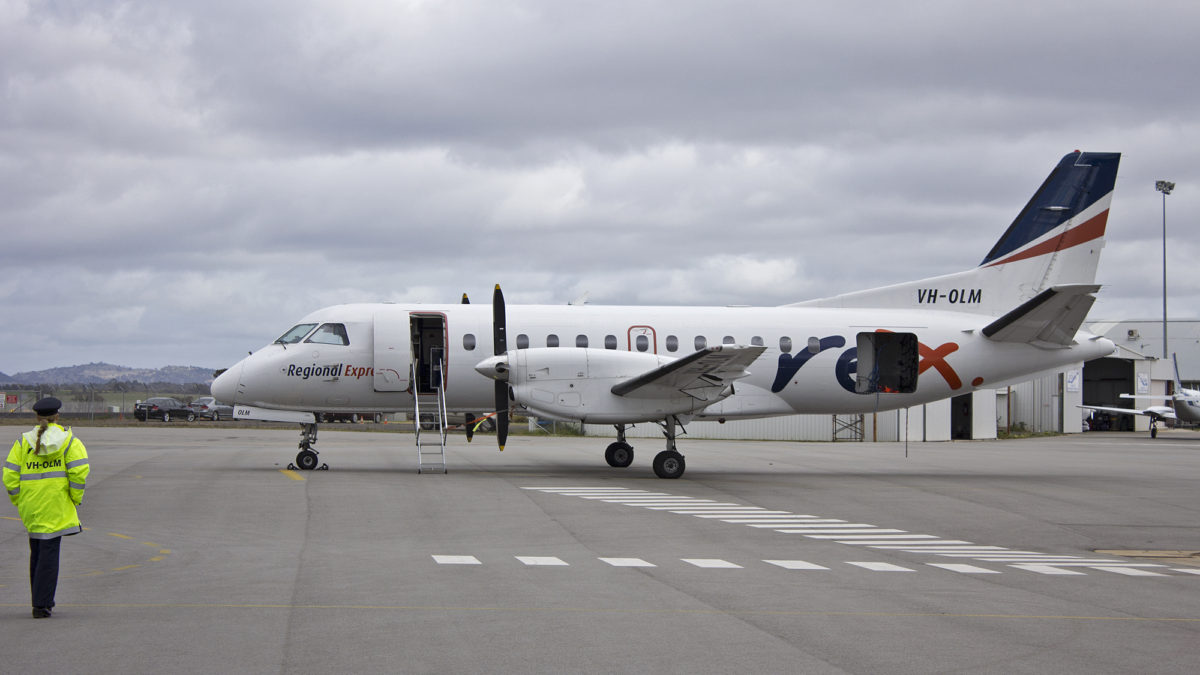 Australia's largest regional carrier Regional Express (Rex) has no plans to step up to larger turboprop aircraft arguing that its 30-seat Saab 340 aircraft are the right size for the markets that it serves.
Rex chairman and major shareholder, Lim Kim Hai, tells Smart Aviation that the passenger market in Australia has a unique set of dynamics that favours smaller turboprop aircraft over larger aircraft.
He says most of the passenger traffic involves people travelling from the regional towns to the big cities and then returning home again.
Most of the traffic on these regional routes total around 50,000 passengers per annum, he says, adding that a route with this amount of traffic can have three return flights a day with a 30-seat aircraft. But a 70-seater has twice the capacity, so the airline could only have one or one and a half flights a day with a 70-seater. Having half a flight a day would effectively mean one flight on alternate days.
He also says a single return flight or a twice daily return flight is not an efficient use of the aircraft asset.
Lim also says even if there was a regional route that had 100,000 passenger volume per year, one could have an eight-times daily return service with a 30-seater, "and still be extremely profitable."
"If you were travelling on this route and had a choice of eight flights a day on a 30-seater versus three flights a day on a 70-seater, which would you choose?", he asks rhetorically.
"There are efficiencies to be had with the larger turboprop, but the dynamics of the regional aviation market in Australia are such," that it makes more sense to operate 30-seat regional aircraft.
Rex has around 55 Saab 340 aircraft, making it the largest Saab 340 operator in the world. Lim says the aircraft is approaching 30,000-40,000 flight hours but the life of the aircraft is 80,000hrs and there are life extension programs that can increase it to 100,000hrs.
When asked about the challenges involved in maintaining out-of-production aircraft, such as the Saab 340, Lim argues that whether an aircraft is new or old it is still required to undergo certain maintenance checks, such as engine overhauls.
He says with older aircraft there may be some parts that need to be replaced after a long period of time, that would not be required to be replaced on a newer aircraft. But even taking into account these additional costs, the Saab 340 is still a good aircraft because the acquisition costs are so much lower.
The money saved from the lower acquisition cost will more than make up for the higher engineering costs incurred to maintain the older aircraft, he adds.
Leithen Francis
Leithen is based in Singapore and has over 17 years' experience working for news organisations. He is the former deputy Asia editor of Flightglobal and the former Asia editor of Aviation Week. Leithen has a BA in journalism from RMIT University in Melbourne, Australia.
Related posts
SUBSCRIBE TO OUR NEWSLETTER