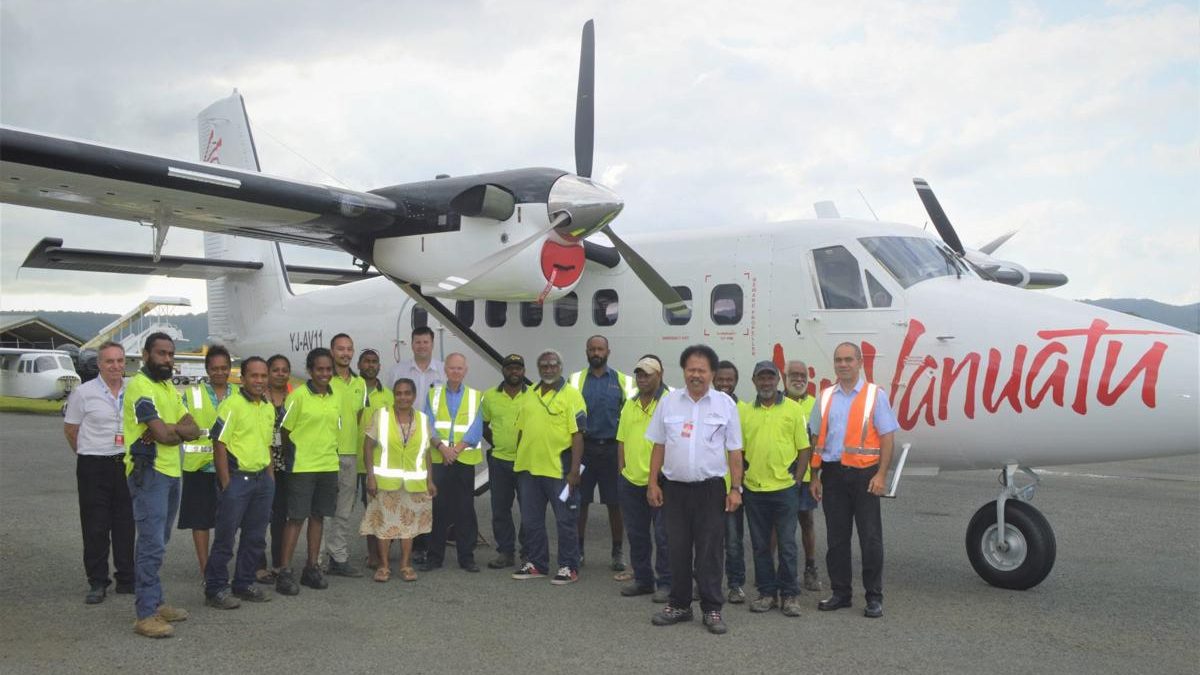 Air Vanuatu is renewing its fleet with new Airbus A220s and plans to make changes to its domestic turboprop operations.
It has four A220s on order and will take delivery of one A220-300 and one A220-100 in 2020, as well as another one of each aircraft in 2022, says Air Vanuatu marketing and communications manager Paul Pio.
The new A220s will complement Air Vanuatu's sole Boeing 737-800, which is being phased out in 2021, says Pio. The A220s will be used to increase frequency and also gradually take over some of the international routes being operated by Air Vanuatu's codeshare partners, he says.
Pio says the A220s will be deployed on the Brisbane, Sydney and Auckland routes as part of the Vanuatu government's 'Shared Vision 2030' plan to build tourism capacity. The Port Vila-Auckland service, for instance, will increase to six flights a week from three, he adds. The airline
has also announced that the A220 will eventually be deployed on the Melbourne route.
The national airline is also planning to further develop its domestic routes, Pio says.
The airline has one ATR 72-600, three de Havilland Canada DHC-6 Series 300 Twin Otters and one Britten-Norman BN-2 Islander. The turboprop aircraft serve 27 domestic destinations and nearby South Pacific countries, such as New Caledonia, from its Port Vila hub.
It is considering retiring the aging Islander and Twin Otters and adding Cessna Caravans, Pio says. He says this will ensure aircraft capacity matches demand and it will simplify fleet operations and maintenance. Pio also says the airline plans to replace the ATR 72 with the smaller capacity ATR 42.
Air Vanuatu does maintenance up to 'B checks' on its ATR 72-600, as well as all maintenance on its Twin Otters and Islander in Vanuatu, Pio says. The ATR 'C-checks' are done in Fiji, while the Boeing 737-800's are done in New Zealand, he adds.
The airline previously flew Harbin Y-12 turboprops but sold these aircraft a few years ago to Air Kiribati as it found Y-12 maintenance too costly and complicated, Pio says.
Air Vanuatu's turboprop fleet is centred in Port Villa, but the airline plans to move the turboprop base to the country's second largest city, Luganville.
Pio says there is a plan to launch some international services into Luganville rather than have all the international flights come into Port Vila.
He says the reason the turboprop base is shifting to Luganville is because the government wants to spread development from air transport more evenly across the country.
Pio says the other issue is Port Vila airport is congested and it is difficult to expand the airport there, as the area around the airport is ether sea and mountains or residential housing.
Having Luganville as a hub for the turboprop fleet will ease airport congestion in Port Vila, and help the country reach its target – of 300,000 visitors per annum by 2030 – more sustainably, he says.
Both the government and the airline are optimistic on reaching this target, he adds, citing Air Vanuatu's Boeing 737-800 services, which are already operating at full capacity.
Edward Eng
Edward is based in Singapore. He writes stories on regional aviation across the Asia-Pacific region and has a background on covering socio-political issues. Edward holds a BA (Hons) in Philosophy, Politics and Economics from the University of Warwick in the UK.
Related posts
SUBSCRIBE TO OUR NEWSLETTER