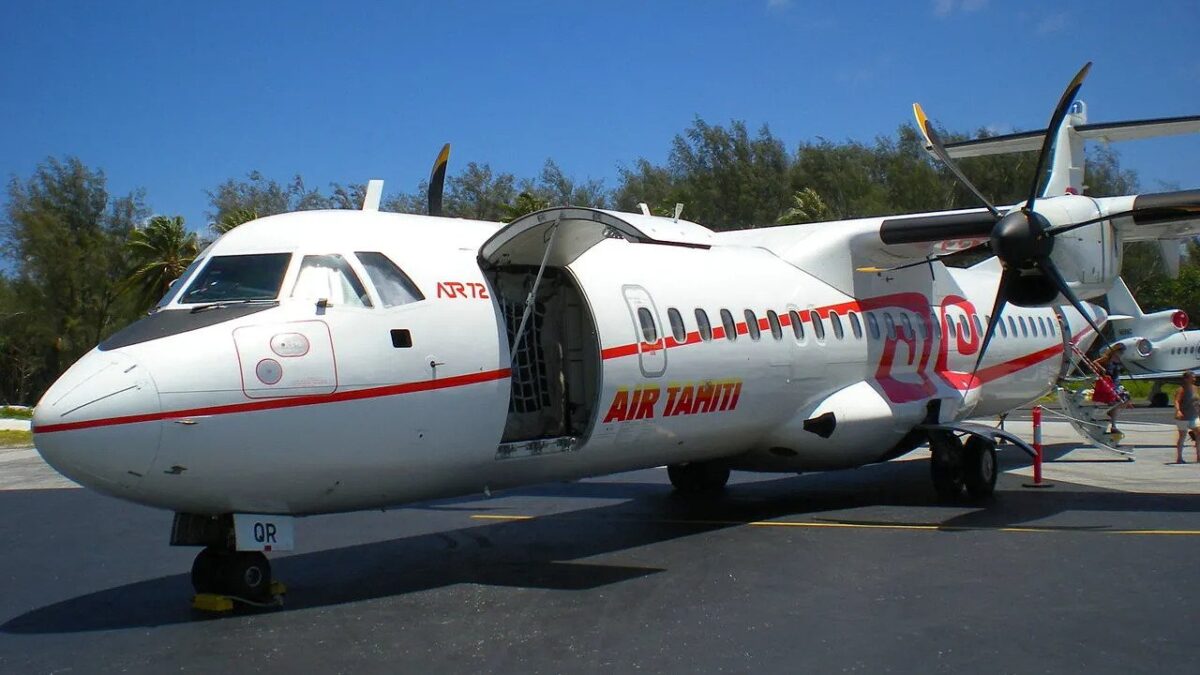 An Air Tahiti ATR 72 has been grounded for repairs following a hard landing, affecting thousands of passengers due to changes in subsequent flight schedules.
Air Tahiti told local media that about 40 commercial flights, approximately half its flights, may be moved forward or delayed 30-90 minutes, affecting around 5,000 passengers. The schedule changes are over a four-day period starting around 8 April, it said.
Vairani Tetaria, Air Tahiti commercial director, says he hopes the grounded ATR can resume operations before the Easter weekend.
The airline says the grounding has had repercussions across its domestic network, because it is now the school holidays, so flights are full. Easter weekend is also a busy travel period in French Polynesia, it adds.
The ATR 72-600, local registration F-ORVS, was grounded following a hard landing on 4 April at Atuona Airport after completing a flight from Nuku Hiva Airport, news reports say. Both airports are in the Marquesas Islands, the northern part of the country.
The airline tells local media that strong downward gusts of wind caused the aircraft to slam against the runway and this weather phenomenon is common in the region. None of the 60 passengers on board were injured, say the reports.
The airline says it inspected the aircraft and determined that certain parts of the landing gear had been subjected to pressures exceeding safety standards, and needed to be replaced.
Air Tahiti has since ordered two landing gears from Safran Landing Systems, costing tens of thousands of dollars, and the aircraft will need to be transported to Tahiti's main international airport, Faa'a International Airport, for repairs, the reports say.
Air Tahiti's website shows its fleet consists of seven ATR 72s, two ATR 42s and three Beechcraft KingAir B200s.
French Polynesia is heavily dependent on domestic air travel as local residents use air services to access healthcare and for transporting food and supplies. Air Tahiti is the only operator on many of the domestic routes.
Smart Aviation Asia Pacific previously reported that French Polynesia's government is greenlighting new entrants into the domestic market, so as to create more competition.
Natireva, which is known as Air Moana, intends to launch operations with two ATR 72s and three ATR 42s. It has received its air carrier license and is waiting for its air operator's certificate (AOC).
Air Motu Link is at the same stage as Air Moana, though it is still fundraising. It plans to start operations with two ATR 72s.
The latest newcomer Air Bora Bora filed for its air carrier license on 4 January and looks to enter the market with two ATR 72s.
Picture Source: skyteamvirtual.org
Related Stories:
Aviation Revolution In French Polynesia (17 January 2022)
Former Head Of Air Tahiti Behind New French Polynesian Start-Up (14 January 2022)
French Polynesia's New Domestic Carrier Motu Link Gets Govt Go-Ahead (18 October 2021)
Air Tahiti Reverses Plan for Reduced Network (8 July 2020)
Ong Jeng Yang
Based in Singapore, Ong Jeng Yang has more than four years of experience working in the media industry.
Related posts
SUBSCRIBE TO OUR NEWSLETTER