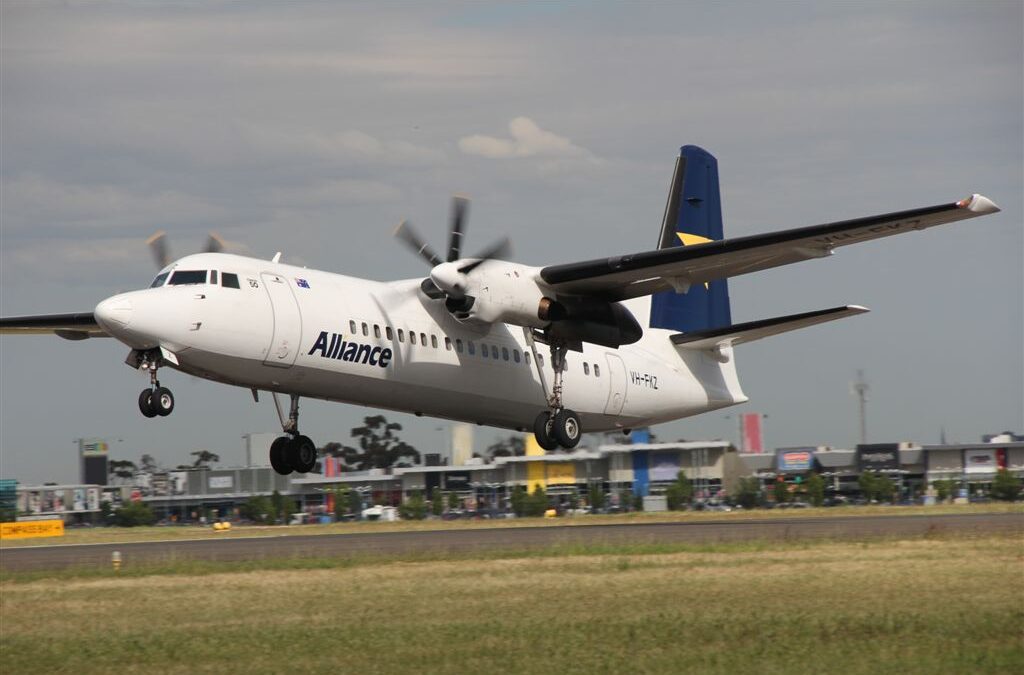 Australian charter carrier Alliance Airlines has agreed to sell its five Fokker 50 aircraft and related equipment for A$4.6 million (US$3.2 million).
Brisbane-based Alliance Airlines says in a statement to the Australian stock exchange that it today agreed to sell the five Fokker 50 aircraft and related equipment to an undisclosed buyer.
It says it will receive the A$4.6 million proceeds from the sale in the period July-September of this year. It says even though it has to write down the value of assets by A$12.1 million, sale of the aircraft and related equipment – namely spare engines, spare parts, tooling and ground equipment – will save it about A$4.4 million per year in crew, maintenance and other costs.
The airline says selling the five Fokker 50s rationalises its fleet around two types of regional jets: Fokker 70/100s and Embraer E-190s of which it has 37 and 20 respectively, with another 13 E-190s to enter service by January.
Alliance says the reason it had the Fokker 50s was to serve Olympic Dam in South Australia, but the runway there was recently upgraded to handle jet aircraft.
It says it could have kept the Fokker 50s to compete for some lower passenger volume shorter sectors, but decided this was non-core business. The airline also says its customers generally prefer jet aircraft and that it is more economical for Alliance to focus on its jet operations. The carrier will continue to operate its Fokker 70/100s for at least another ten years, it adds.
Qantas Airways announced in early May it has reached an agreement with Alliance to take full-ownership of the company.
There are other mining charter operators, besides Alliance, that operate turboprops, namely: Cobham Aviation Services, which has De Havilland Aircraft of Canada Dash 8-400s; Maroomba Airlines, which has Dash 8-100s and Dash 8-300s; Skippers Aviation which has Dash 8-100s, Dash 8-300s, Embraer EMB-120s; and Pel-Air, which has Saab 340s.
Fokker ended production of the Fokker 50 in the late 1990s, which means Alliance's aircraft are more than 25 years old. But the carrier has said publicly in the past it liked the Fokker 50 because it is a robust aircraft and has engines very similar to aircraft in production today. The Fokker 50 is powered by Pratt & Whitney PW125 turboprops while the ATR 42 is powered by PW127 turboprops.
The Fokker 50 is still used extensively in some developing markets in Africa, such as Somalia.
Feature picture, from Gordan Reid, shows one of Alliance Airlines' Fokker 50s.
Related articles:
Qantas Airways To Buy Alliance Airlines (5 May 2022)
Australia's Competition Watchdog Drops Case Against Qantas' Purchase Of Alliance Airlines' Shares (7 April 2022)
Qantas' Move on Alliance Air and What It Means (11 February 2019)
Qantas Airways Expands Domestic Network (31 March 2022)
Qantas Memo Raises Alarm Over Pilots Returning To Work Making Errors (6 January 2022)
Qantas To Replace Boeing Fleet With Airbus A321neos and A220s (16 December 2021)
Former Qantas Safety Chief Warns That Complacency Among Furloughed Pilots Returning To Work Is A Safety Risk  (27 September 2021)
Australia's Alliance Airlines' Maintenance Base To Open Next Year (28 March 2022)
Australia's Expanding Alliance Airlines Posts Strong Profit (16 August 2021)
Australia's Alliance Airlines To Use Embraer RJs For Contract Flying and Dry Leasing Business (22 December 2020)
Related posts
SUBSCRIBE TO OUR NEWSLETTER