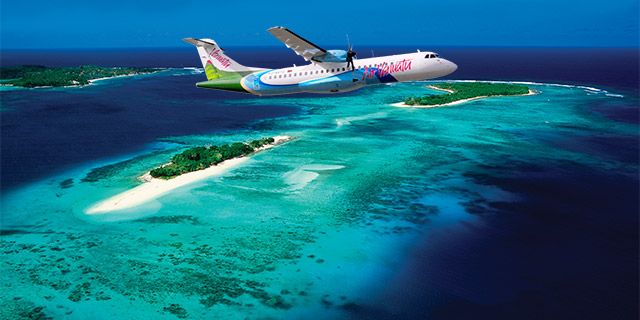 Air Vanuatu is working with the national government to ensure runways are upgraded in time to receive its fleet larger domestic aircraft.
Air Vanuatu CEO Derek Nice says the government has identified Norsup, Lonoror and Motalava as the first runways to be upgraded and extended to accept ATR-sized regional turboprops. These airfields mainly serve local communities, although the country is pushing to eventually promote these destinations to tourists as well, Nice adds.
The country has seen a steady uptick in tourism, says Nice, who predicts the current 10 percent year-on-year growth in international arrivals to remain intact for the foreseeable future.
People from Australia and New Zealand account for 80% of international arrivals, but Nice predicts the proportion of foreigners from other markets will increase to 50% from 20% currently.
These new foreign tourists will come from places further away such as Asia, North America and Europe, says Nice, adding this is significant as tourists from places further away tend to spend more time in Vanuatu when they get there. They also tend to travel around Vanuatu's archipelago, giving a boost to domestic air services and economic development across parts of the country, he says.
Air Vanuatu recently ordered two 108-seat and two 133-seat Airbus A220s to replace its single wet-leased Boeing 737-800 and support growth in international arrivals. Nice says some of this additional capacity will inevitably support code-shares with carriers from nearby countries such as the Solomon Islands. But the main goal is to develop Vanuatu as a destination for tourists from regions like east Asia. International arrivals from east Asia have grown at a yearly rate of about 12 percent over the last five years, he adds.
The airline will also be upgrading its domestic fleet to match growth in international arrivals, Nice says. It is considering complementing its existing ATR 72-600 with another ATR 42-600 or ATR 72-600 to grow trunk routes, he adds.
There is also a requirement to replace Air Vanuatu's three ageing de Havilland Canada Series 300 Twin Otters and two Britten-Norman Islanders with newer aircraft. Smaller turboprops are needed because it will take some time to upgrade the airports and will still be some airports that have runways less than 1,000m-long, he adds.
Edward Eng
Edward is based in Singapore. He writes stories on regional aviation across the Asia-Pacific region and has a background on covering socio-political issues. Edward holds a BA (Hons) in Philosophy, Politics and Economics from the University of Warwick in the UK.
Related posts
SUBSCRIBE TO OUR NEWSLETTER