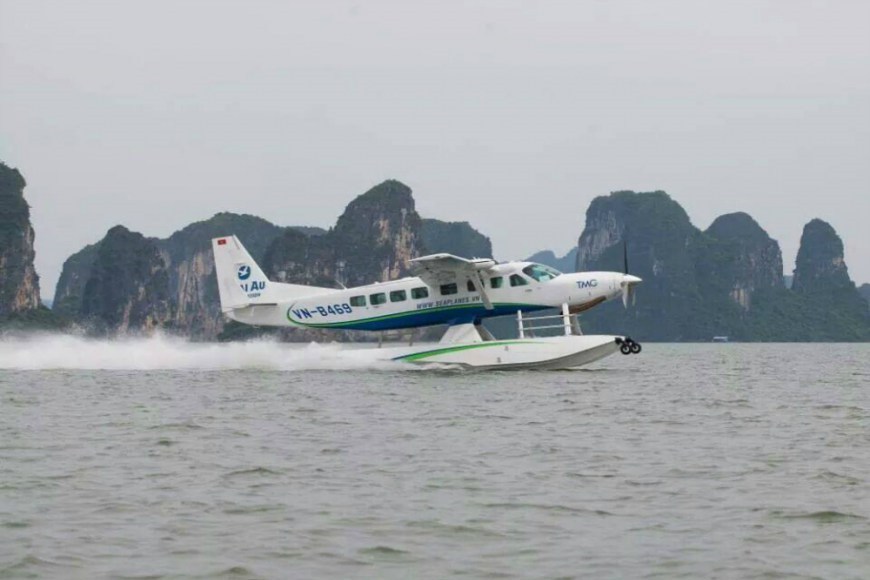 Scenic Flights Driving Business at Vietnam's Only Seaplane Operator
Edward Eng, 19 Aug 2019
2 min

read
Scenic flights are an increasingly popular activity for tourists visiting Vietnam's coastal cities, thanks to booming beach resorts, natural and cultural heritage attractions.
Phan Bao Chi, marketing manager of Vietnam's only seaplane operator Hai Au Aviation, says it expects the growth of scenic flights to continue, outstripping that of scheduled flights, as more resorts come online. Hai Au Aviation started in 2014 and has flown more than 30,000 people from 47 countries; with the US, UK and local tourists making up 40 percent of its passengers, Phan adds.
The airline recently launched Danang-Dong Hoi and Hue-Danang scheduled services, which are a hybrid of air taxi and scenic flights, Phan says. Its other scheduled service – between Hanoi and Halong Bay – tops the experience by landing in harbour waters, Phan adds. Hue and Danang are home to three historical UNESCO world heritage sites, while Halong Bay is known for its limestone karsts, which jut out from several thousand islands in the sea.
Hai Au Aviation is also monitoring the development of island and seafront resorts, which could provide an additional market for amphibious aircraft by directly dropping passengers off at resort jetties, Phan says.
Such resorts are concentrated not just in the Halong and Danang tourist hotspots, but also across the rest of the coast in the Nha Trang, Phan Thiet and Phu Quoc regions, Phan adds. These resorts range from boutique-size operations to large hotels run by operators such as the Vinpearl Group.
Hai Au Aviation operates a fleet of three Cessna 208B Grand Caravan EX amphibious aircraft.
When asked what challenges Hai Au faces as the country's only seaplane operator, Phan highlighted difficulties in getting approval from regulators, particularly because of the legal framework that governs water operations. Phan says the airline still has to follow commercial flight routes despite facing challenges such as bad weather, which affects it more than larger aircraft operations.
These difficulties result in higher operational costs that are often not understood by passengers
in Vietnam, Phan says.
Edward Eng
Edward is based in Singapore. He writes stories on regional aviation across the Asia-Pacific region and has a background on covering socio-political issues. Edward holds a BA (Hons) in Philosophy, Politics and Economics from the University of Warwick in the UK.
Related posts
SUBSCRIBE TO OUR NEWSLETTER