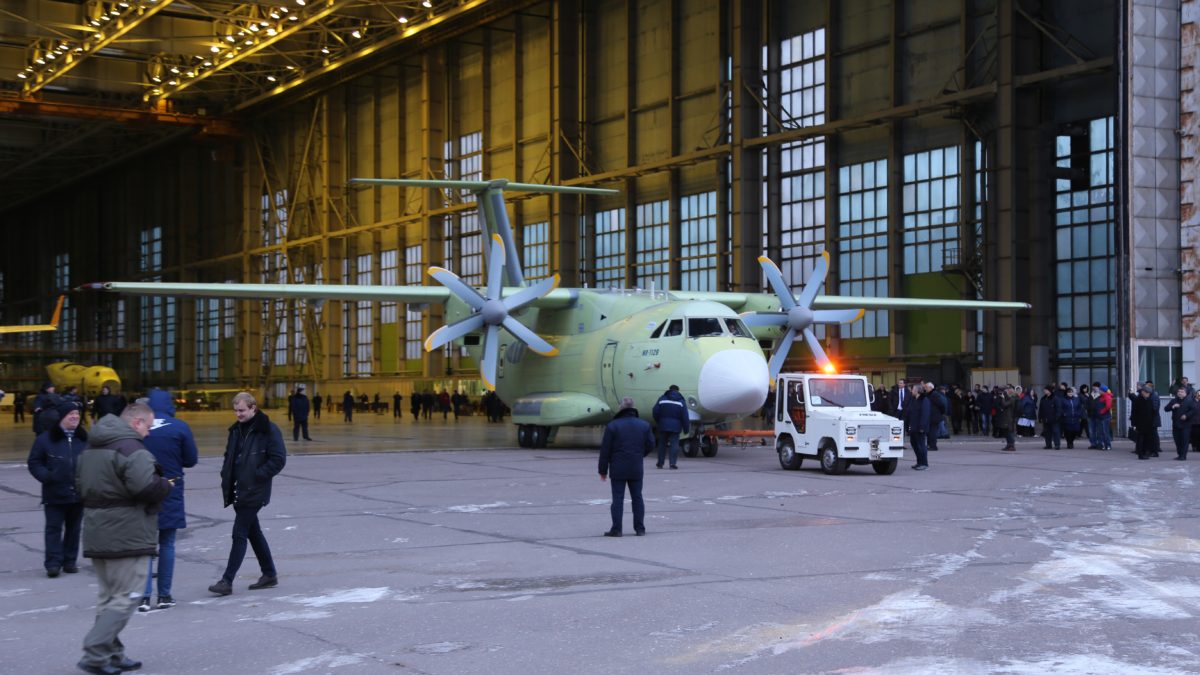 Russia's United Aircraft Corporation (UAC) has unveiled a first prototype of its Ilyushin Il-112V transport turboprop.
UAC rolled out the aircraft from the Ilyushin plant in Vorenezh, south of Moscow. The aircraft has a high wing and is powered by two Klimov TV7-11ST turboprop engines.
The aircraft-maker says the new aircraft mainly replaces the old Antonov An-26 that was designed in the 60s. The new aircraft meets current ICAO noise and emission requirements, as well as has all-weather capabilities, it says.
The Il-112V will be used for military cargo but can also carry up to 50 passengers, or 26 armed paratroops. UAC adds that it also plans to develop a civil variant of the aircraft. 
According to UAC, it has a maximum take-off weight of 21t, inclusive of a payload of up to 5t. With a 3.5t payload, its range is rated for 2,400km. UAC adds that this improvement on the An-26's range is due to a more fuel-efficient engine.
UAC says the unveiled prototype is undergoing performance and flight-handling trials. A second prototype being built now will be used for strength and fatigue tests, it says.
Edward Eng
Edward is based in Singapore. He writes stories on regional aviation across the Asia-Pacific region and has a background on covering socio-political issues. Edward holds a BA (Hons) in Philosophy, Politics and Economics from the University of Warwick in the UK.
Related posts
SUBSCRIBE TO OUR NEWSLETTER