New Zealand regional carrier Sounds Air plans to add more Pilatus PC-12 aircraft, so it can cater to growth in New Zealand's regional aviation market.
The airline's managing director, Andrew Crawford, says the carrier evaluated Beechcraft 1900D aircraft about two years ago, but decided against it. "The numbers didn't work financially," says Crawford. The impetus for why Sounds Air was considering stepping up to larger aircraft was that Sounds Air has some routes that can support 19-seat aircraft.
But when Sounds Air evaluated the Beechcraft 1900D, it became concerned about the difficulty and higher maintenance costs involved in operating an out-of-production aircraft.
He also says they were also concerned that the costs involved in adding a new aircraft type to the fleet and decided the solution was to add more PC-12s and have more flights on the routes.
He says the PC-12 is a very modern aircraft that is still in production, is popular with passengers and is well supported by Pilatus.
The airline operates five PC-12s and plans to buy two more, which will most likely be pre-owned aircraft, says Crawford. Most of the airline's PC-12s are ex-Royal Australian Flying Service PC-12s, he says.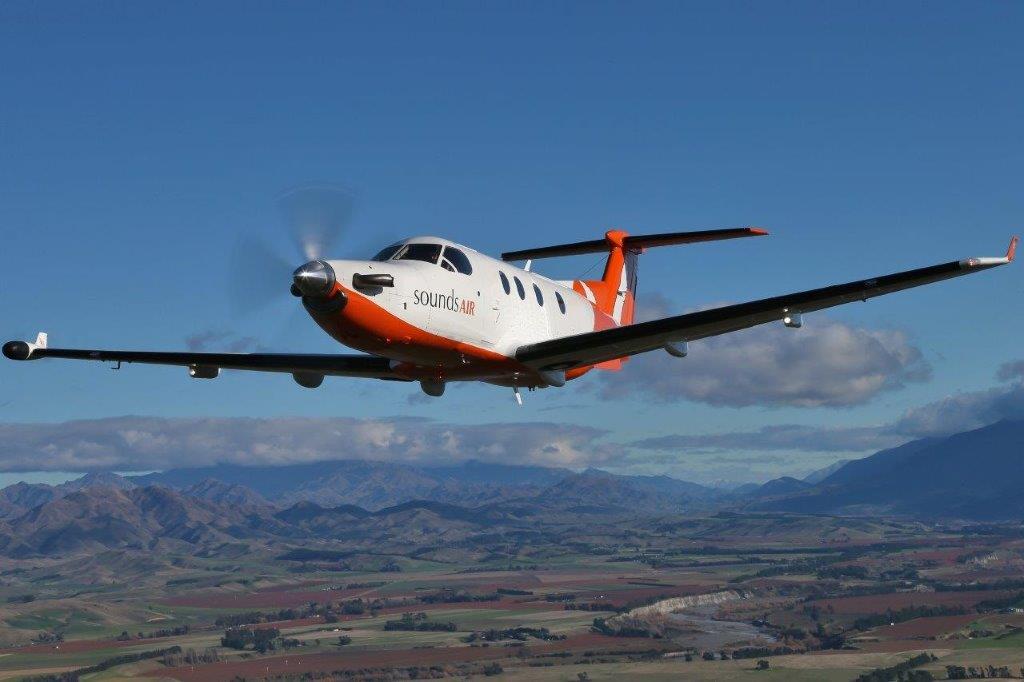 Sounds Air also flies four Cessna Caravans, a type it has been operating since 1987. The airline started adding PC-12s in 2014 when Air New Zealand started exiting some routes, such as Wellington-Taupo and Wellington-Westport. These routes are now served by Sounds Air with the PC-12.
Air New Zealand's Eagle Airways was flying the routes with Beechcraft 1900Ds, but Eagle Airways was wound down and shuttered in 2016.
Sounds Air chose the PC-12 partly because it needed a pressurized aircraft to fly over the high mountains in the area. The PC-12 can fly up to 30,000ft, says Crawford, adding that the aircraft was also chosen because it has good range and offers good passenger comfort.
Crawford says the airline also likes the fact the Cessna Caravan and the PC-12 are both powered by Pratt & Whitney Canada PT6 engines, as this makes maintaining the fleet more straight forward.
He says a few years ago Sounds Air established its own maintenance, repair and overhaul (MRO) organisation, Sounds Aero Maintenance, so it could better manage maintenance costs. As of February this year, Sounds Air has started maintaining its fleet of PC-12s in-house for the same reason, he adds.
Leithen Francis
Leithen is based in Singapore and has over 17 years' experience working for news organisations. He is the former deputy Asia editor of Flightglobal and the former Asia editor of Aviation Week. Leithen has a BA in journalism from RMIT University in Melbourne, Australia.
Related posts
SUBSCRIBE TO OUR NEWSLETTER