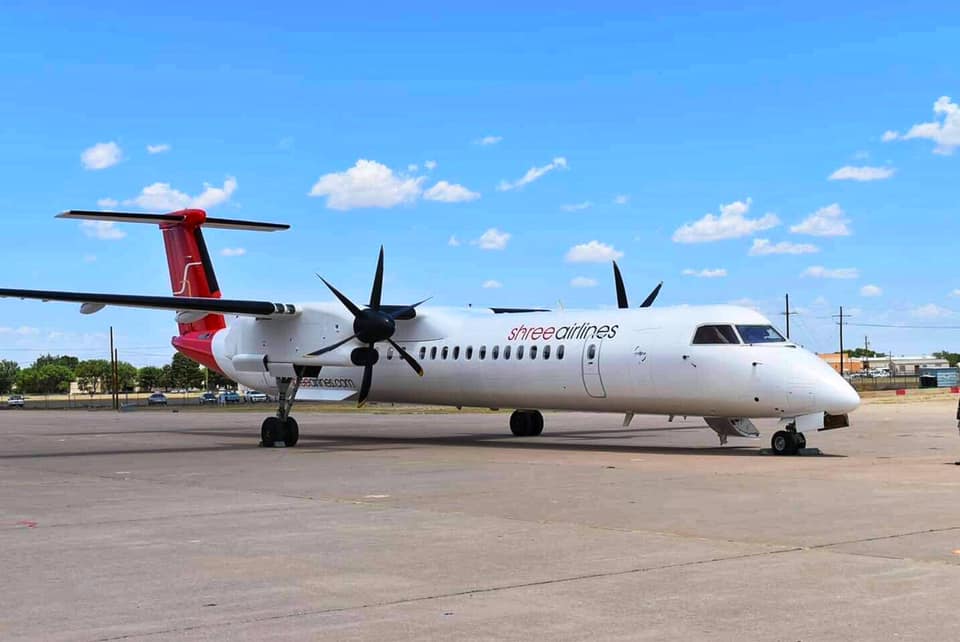 Nepal's third largest domestic carrier, Shree Airlines has added two De Havilland Aircraft of Canada Dash 8-400s within one month, and plans to add two more this year.
Shree Airlines corporate manager, Anil Manandhar, tells Nepalese national daily newspaper myRepublica  that the airline received the first aircraft in December and the second on 28 January.  
Media outlet The Kathmandu Post, meanwhile, quotes Mananadhar saying the airline intends to add two more Dash 8-400s this year.
According to aviation site Planespotters, Shree Airlines has two Bombardier CRJ200s, two Bombardier CRJ700s and two Dash 8-400s. The latest two additions increases its Dash 8 fleet to four. 
Shree Airlines reportedly plans to expand its destinations with the additional aircraft, such as flights to Surkhet and Tumlingtar after it obtains the necessary approvals from the Civil Aviation Authority of Nepal (CAAN).
In a separate development, the CAAN has opened a tender to build a new arrival lounge at Kathmandu's Tribhuvan International Airport, inviting potential bidders to submit documents before 2 March, The Kathmandu Post reports citing the CAAN.
Hari Adhikari, chief of this project, says the new lounge is in response to rising domestic travel which has caused a strain on the existing facility.
"We expect domestic passenger numbers to reach the four million mark this or next year, hence there is a need for an upgraded infrastructure," he adds.
Smart Aviation Asia Pacific previously reported that Nepal recorded an all-time high in domestic passenger numbers last year with 3.54 million, largely due to cheap air fares causing a surge in demand.
Picture Source: facebook.com/LoveForaviationinNepal
Related Stories:
Nepal Breaks Domestic Travel Record (10 January 2022)
Nepal's Shree Airlines Delays Adding Dash 8-400s (16 September 2021)
Ong Jeng Yang
Based in Singapore, Ong Jeng Yang has more than four years of experience working in the media industry.
Related posts
SUBSCRIBE TO OUR NEWSLETTER