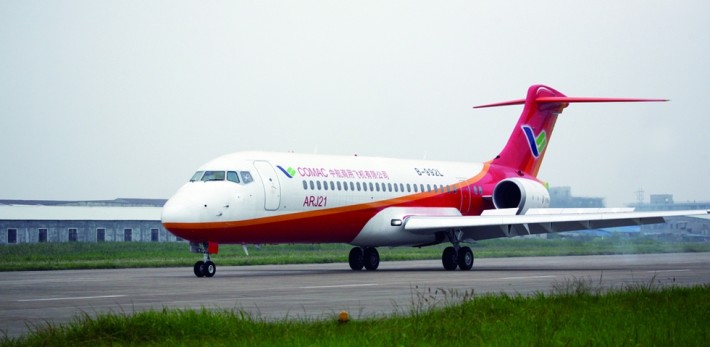 Liebherr AVIC Qi Aviation has been licensed to do ARJ21 landing gear overhauls and plans to build a maintenance facility in China's Hunan province to do the work.
The company, a joint-venture between China Aviation Industry (AVIC) Landing Gear and Germany's Liebherr Aerospace, will soon have a world-class landing gear MRO facility built in Changsha, capital of Hunan province, the Changsha Wangcheng Economic Development Zone Aviation Industrial Park says in a statement.
It also says the Civil Aviation Administration of China granted Liebherr AVIC Qi Aviation a license on 12 July as an approved maintenance organisation for ARJ21 landing gears, filling a gap in domestic maintenance services for the ARJ21.
The statement says Liebherr AVIC Qi Aviation is the first company in China approved to overhaul ARJ21 landing gears. The ARJ21 is Chinese regional jet aircraft that had entry-into-service in 2016.
AVIC Landing Gear and Liebherr Aerospace are also the original equipment manufacturer of the landing gear. The statement says Liebherr AVIC Qi Aviation moved into this MRO segment after seeing demand for ARJ21 landing gear overhaul rise since 2019.
Liebherr AVIC Qi Aviation will focus on the main landing gear first and later add nose landing gear overhaul to its capabilities, it adds.
Picture Source: Liebherr
Related stories:
China Southern Airlines Adding 27 COMAC ARJ21 Aircraft 
China's Shanghai Aircraft Performs Its First ARJ21 4C Heavy Check
China's Chengdu Airlines Opens New ARJ21 Training Centre
Prudence Lim
Prudence is based in Singapore and is a budding reporter who is passionate about journalism. She also has various experience in the media industry, ranging from film to news. She is pursuing a BA in Communication Studies from Wee Kim Wee School of Communication and Information, Nanyang Technological University, Singapore.
Related posts
SUBSCRIBE TO OUR NEWSLETTER