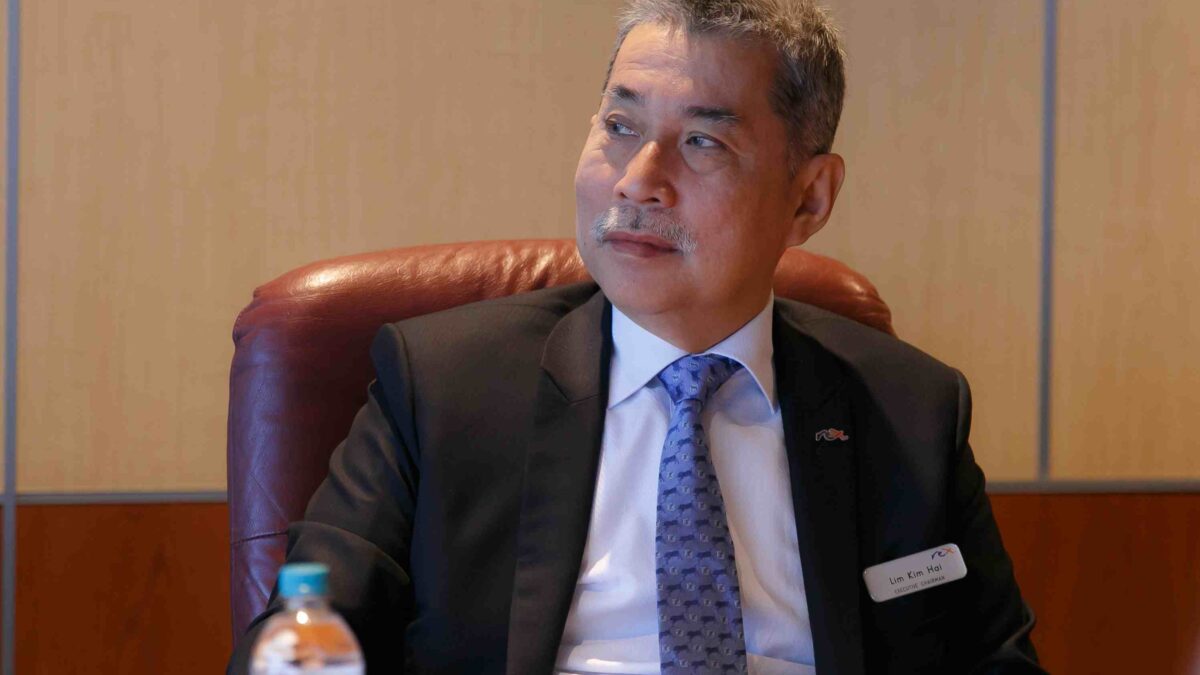 Prior to investing in Regional Express (Rex) in 2002, and later becoming executive chairman of the Australian regional carrier, Lim Kim Hai was contemplating semi-retirement and taking it easy.
Lim, and a group of other investors, bought Ansett Australia's regional carriers Hazelton Airlines and Kendell Airline out of receivership in August 2002 and merged them to created Rex. They thought Rex would be a passive investment.
But when Rex lost tens of millions of dollars in its first year, Lim stepped in. 'Taking it easy' and being passive are not in Lim's character.
"I am very much someone who enjoys the challenge," replies Lim when asked what motivates him. "I like the airline industry, because it is so tough."
"There are so many aspects of the business – regulatory, unions, politics, technical, etc – and even when you get it all right, you can still lose money. Virgin Australia is a case in point. It has actually got a fairly good operation and runs fairly well as an airline. They got most of it right, but still lose tons of money."
Rex is a regional turboprop operator based in the New South Wales town of Wagga Wagga that operates a fleet of around 60 Saab 340 aircraft to smaller towns throughout Australia, mostly those in New South Wales, Victoria, Queensland and Tasmania. It also owns a pilot training school – The Australian Airline Pilot Academy – and a charter airline called Pel-Air that operates small turboprop aircraft and business jets providing services, such as medevac.
Rex is a much smaller airline group than Qantas but has been producing annual profits consistently. Lim says Rex's financial results show the carrier has been more profitable than Qantas, in absolute terms, since 2008.
Now it is preparing to launch Boeing 737-800 operations on 1 March on some of Australia's trunk routes in direct competition with Qantas and Virgin Australia. The later came out of receivership late last year after being revived by US investment company Bain Capital.
Australians like to support the underdog, and Rex fits that description quite well.
"We have a champion team," says Lim. "The management team at Rex, most of them have been with me since I started in 2002. Some joined a bit later. Probably none have been with me for less than 15 years."
"Together as a team, we can do things that Qantas can never match. For example, when we decided to go into jet operations, the decision was taken at board level around June last year. By mid-December we already had approval from Australia's Civil Aviation Safety Agency (CASA). Go and find me another airline that can get that approval within five months," says Lim.
When the board met at the end of February last year, to announce the airline's half-yearly financial results, there was one board director who suggested Rex expand into jet operations on trunk routes, because Virgin Australia planned to close its low-cost carrier subsidiary Tigerair.
"He gave his spiel and I said 'no way'. That was in February. I said 'even with Tigerair closing, there's still not enough space for us. It's not a good enough reason.'"
The situation in Australia, with regards to COVID-19, then changed very quickly.
The pandemic suddenly had a very negative impact on Australia's economy starting second week of March, says Lim.
Qantas Group responded on 18 March announcing it was temporarily standing down two-thirds of its 30,000 employees and suspending all international flights.
"With COVID-19 happening, we knew it meant all the airlines were contracting," says Lim.
"When everyone contracts, it creates a big vacuum. An airline is not just about aircraft, pilots and safety. That is something you can manage. The things that are critical [but beyond your control] are availability of airports slots, gates and lounges."
These three aspects, "can make or break an airline," says Lim.
COVID-19 has meant the incumbent airlines on trunk routes in Australia are flying less, retrenching staff – including highly trained pilots and cabin crew – and returning aircraft before the lease has expired, creating a headache for lessors that are now struggling to place aircraft elsewhere.
It means airport slots, gates and lounges are now available; aircraft lease rates are much lower and pilots, cabin crew and other airline employees are available in the job market.
Lim says Rex has secured ex-Virgin Australia 737-800s on leases at rock bottom prices.
"You either have to look at the current situation and say 'now is the perfect time' or you say 'there is too much uncertainty in the world and stay away,'" says Lim, who concludes "now is probably the best time."
Hoarding airport slots is one way incumbents prevent new entrants getting a foothold.
"When it comes to availability of slots, there is a very complicated system in Australia based on historical precedence," but there is also the principle of 'use it or lose it', says Lim.
"Everyone [Qantas, Jetstar, Tigerair and Virgin Australia] had been squatting on slots and were careful to fly everything they had a right to. But now with COVID-19, you can't. If you fly 100% of your pre-COVID capacity, but the market has shrunk 50%, you will lose even more money."
"If COVID continues to be bad, then we can assume that airlines can only operate 50% of what they flew before. That means there is 50% of the slots available for Rex," explains Lim.
Once Rex makes use of those slots, "we will gain precedence on those slots. This is another reason why I say 'it is the perfect time'," adds Lim.
Australia's commercial aviation industry is littered with airlines that tried and failed to take on Qantas. Notable recent examples include: Ansett Australia, which collapsed in 2001; OzJet Airlines which ceased being a scheduled operator in 2009; and Singapore Airlines' Tigerair Australia which failed and then completely sold out to Virgin Australia in 2014.
Airlines that have tried to take on Qantas in the past have accused it of predatory pricing. Qantas' CEO, Alan Joyce, has said recently that Qantas will be heavily discounting its air fares to stimulate market demand.
But that can also mean a price war.
Rex has the benefit of having a regional and charter airline that are consistently profitable and generating cash that can be ploughed into the new 737 operation. It is also cashed-up because it has brought in a new investor, an investment fund from Hong Kong called PAG Asia Capital which has agreed to invest up to A$150 million ($120 million) exclusively to support Rex's 737 operation.
When Smart Aviation APAC asked Lim whether Rex can withstand a price war, Lim replies: "We feel we will get hit, but the question is 'can even Qantas sustain such a price war? Can they stomach it when they are now in a position where they are already severely weakened?'"
Lim says Rex has done its calculations and come to the conclusion that it has a much lower cost base than Qantas and Virgin Australia. The fact Rex has been more profitable in absolute terms than Qantas and Virgin Australia since 2008, indicates that, he adds.
He says if the incumbents discount heavily, to maintain market share, Rex can withstand the financial pressure. If Qantas, for example, heavily discounts on Australia's busiest air route, Sydney-Melbourne, and ticket prices fall below Rex's break-even point on the route, Rex will lose A$10 on each ticket it sells while Qantas loses A$100 on each ticket it sells.
If Rex captures 10% market share on the route and Qantas has 70% market share, Rex is losing $10 on each ticket to maintain its 10% market share, but Qantas loses $100 on each ticket to maintain its 70% market share, says Lim. Qantas' losses will be so much greater, because it is trying to hold a much larger share of the pie, he adds.
The fact that Lim – in his discussion of the merits of Rex's 737 operation – talks numbers, indicates he is focused on the bottom line and first and foremost is a businessman.
"I'm not the typical aviation person. There are people in our industry who have what I call 'kerosene in their blood'. They get enamoured with the whole aviation industry, but not me. Sometimes I don't even remember the specific model of aircraft we own," says Lim, whose charter airline Pel-Air operates a long-list of small aircraft types.
Lim may not remember every aircraft type the group operates, but he does have attention for detail.
When asked how the team turned around Rex years ago to make it profitable, he says there was nothing extraordinary that they did, but "a thousand little things."
"My philosophy is not that an airline is great, because you are great in some areas. It is because you are great in a thousand small areas."
"I have been on this for 18 years and I am still on this, scrutinizing new things all the time or old things – that were scrutinized earlier and dealt with – but later morphed into new forms. You just have to keep your eye on the ball."
He says to run a profitable airline, "the idea is not to reduce expenses [for the sake of reducing expenses]. Some people think the idea is to spend as little as possible. I have a different philosophy. Everything I do needs to add value. You can gain value by spending less for the amount you get. Or you can gain value by spending more in order to get even more."
He cites as an example Rex's decision to spend A$6 million in 2013 to buy all of the Saab 340 spare parts inventory of US carrier Pinnacle Airlines, which went into bankruptcy and was a large Saab 340 operator. Rex, which has since become the world's largest Saab 340 operator, bought Pinnacle's spare parts inventory that included more than 215,000 items such as engines, propellers, under-carriages and tooling.
Lim says A$6 million was a lot of money for the airline to spend, but the investment made in spare parts has saved it money over time and helped it to maintain a high despatch reliability. "And we are still using the spares," he adds.
The other way the airline keeps a handle on costs, is via its productivity committee.
He says when he became more involved in Rex, following its large financial loss in the 2002/03 fiscal year, the airline formed a productivity committee that it still has today.
"The reason the airline lost money in 2002 was because of a thousand things. Each may only have had a $10,000 financial impact on the business, but add them all up and they become important. There was not one brilliant big thing that we did to turn the business around. It was a thousand small things."
The notion that something great can be achieved from things that are small, illustrates what Rex has set out to achieve in its fight with Qantas. Rex is small but its move into trunk routes is its attempt to achieve something great. And there is already a successful precedent of this for Rex to follow. Qantas Airways – which stands for Queensland and Northern Territory Air Service – was once a small regional airline that grew to be a great airline.
Leithen Francis
Leithen is based in Singapore and has over 17 years' experience working for news organisations. He is the former deputy Asia editor of Flightglobal and the former Asia editor of Aviation Week. Leithen has a BA in journalism from RMIT University in Melbourne, Australia.
Related posts
SUBSCRIBE TO OUR NEWSLETTER