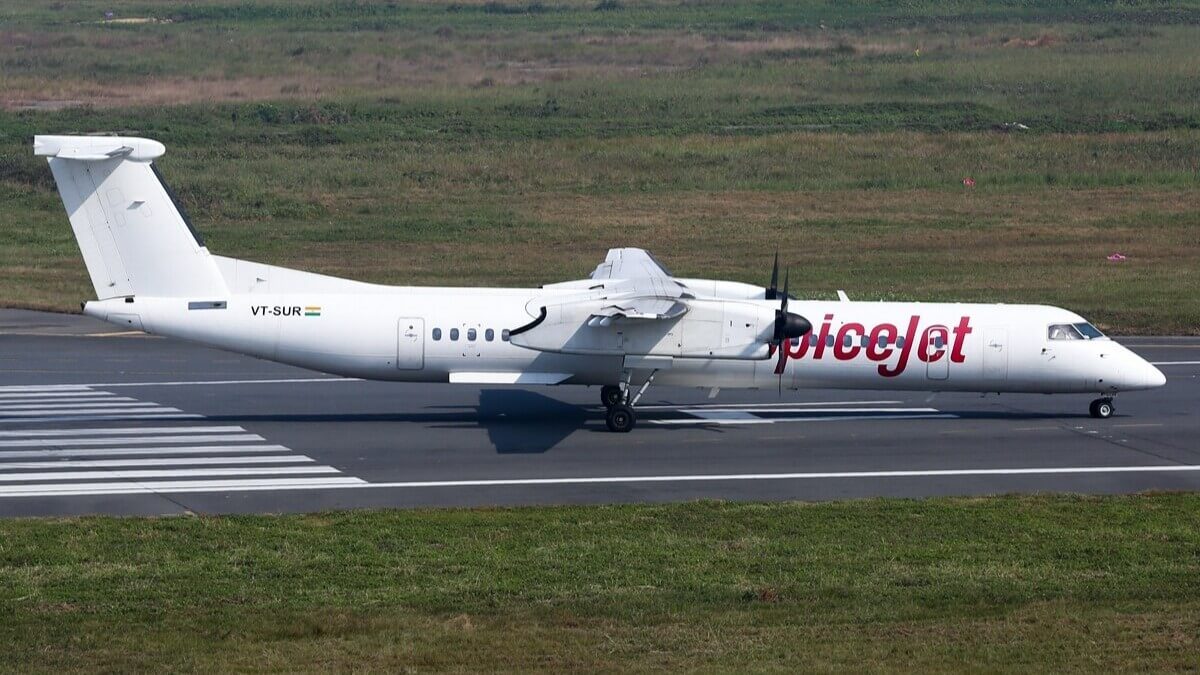 A SpiceJet De Havilland Aircraft of Canada Dash 8-400 experienced smoke in the cabin, leading it to return to New Delhi airport.
The Dash 8-400, local registration VT-SUR, was enroute to Jabalpur Airport on 2 July but diverted back to New Delhi's Indira Gandhi International Airport after the pilots declared an emergency, SpiceJet's spokesman tells Smart Aviation Asia Pacific.
SpiceJet says in a statement the crew noticed smoke in the cabin along with the lavatory smoke alarm while climbing past 5,000 ft (1524m). The cabin crew informed the cockpit crew of mild smoke in the cabin and visually observed no sign of smoke or damage observed in the lavatory, it adds.
The smoke started to increase when the flight reached an altitude of 14,000 ft (4267m), and the flight crew levelled off at 15,000 ft (4572m) and declared an emergency, returning back towards Delhi, it reports.
Video from twitter user @saurabhdigidir as a passenger on the flight showing the smoke in cabin.
Local news station NDTV quotes an unnamed source saying the preliminary investigation has suggested an oil leak in the left engine caused the smoke.
Flight tracking software shows that VT-SUR has yet to return to regular flight service since the incident.
Smart Aviation Asia Pacific previously reported on 21 June that a SpiceJet spokesperson reported a different aircraft on the same flight service had to return to New Delhi Airport after reporting cabin pressurization issues.
Picture Source: Raihen Ahmed
Related Stories:
Two of SpiceJet's Dash 8-400s Suffer Door Issues On Take-Off (27 June 2022)
India's SpiceJet Dash 8-400 Diverts Due To Cabin Pressurization Issue (21 June 2022)
India's SpiceJet Faces Full Safety Audit Following Incidents (6 May 2022)
Davy Lim
Davy is based in Singapore. He is passionate about aviation and has flight experience in various single engine piston aircraft, gliders and seaplanes from his time in the United States. Davy holds a BA in Economics from the State University of New York in Buffalo.
Related posts
SUBSCRIBE TO OUR NEWSLETTER