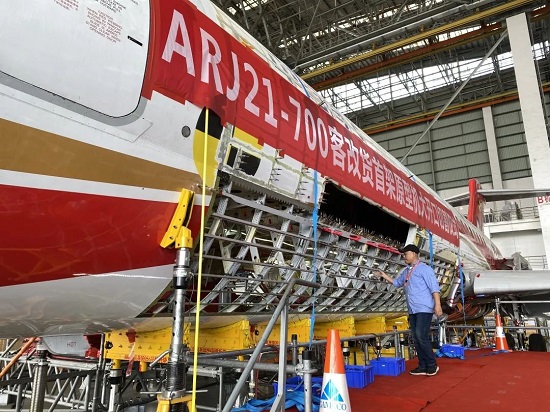 Hangzhou-based YTO Cargo Airlines plans to add Commercial Aircraft Corporation of China (COMAC) ARJ21 freighters that are being converted from passenger aircraft by Guangzhou Aircraft Maintenance Engineering Company (GAMECO).
YTO Cargo Airlines says in a statement that it and COMAC recently held a ceremony in GAMECO's hangar to promote the launch of the first ARJ21 passenger-to freighter-conversion program.
The airline says it is fulfilling its promise of supporting domestically-produced cargo aircraft and will be the global launch operator of the ARJ21 freighter.
"As the aviation passenger market continues to be greatly impacted, cargo operations have been accentuated, in terms of its contributions in supplying pandemic resources and its involvement in the rebuilding supply chain. This passenger-to-freighter conversion project came at an opportune [time]," it adds.
Su Xiu Feng, YTO Express Group deputy director and YTO Cargo Airlines director, says the ARJ21 passenger-to-freighter conversion program is a significant milestone in the history of China's domestically-produced aircraft, and signifies the cooperation between the airline and COMAC.
"We firmly believe that cross border e-commerce and the global supply chain market will provide a broad stage for us to further our cooperation with COMAC," he asserts.
Su also thanked GAMECO for its professional capabilities and commended its extraordinary abilities to capture this opportunity in the passenger-to-freighter conversion market.
The first batch of ARJ21 passenger aircraft that GAMECO will be converting to freighters for YTO Cargo Airlines are ex-Chengdu Airlines ARJ21 aircraft. Comac owns Chengdu Airlines.
According to Airfleets.net ARJ21-700s with manufacturer's serial numbers (MSN) 109 and 112 have been assigned to YTO Cargo Airlines. Comac's MSNs for ARJ21 program start at 100, so MSN 109 and MSN 112 are some of the very first ARJ21s manufactured. Both aircraft first flew in early 2018, it adds.
YTO Cargo Airlines' statement also quotes from Aviation Industry Corporation of China's (AVIC) annual market forecast for commercial aircraft. China's commercial cargo fleet is forecast to grow to 650 aircraft by 2040, with 157 large freighters, 197 medium freighters and 296 small freighters, it says.
Picture from YTO Cargo Airlines shows work on the wide cargo door of the ARJ21.
Ong Jeng Yang
Based in Singapore, Ong Jeng Yang has more than four years of experience working in the media industry.
Related posts
SUBSCRIBE TO OUR NEWSLETTER