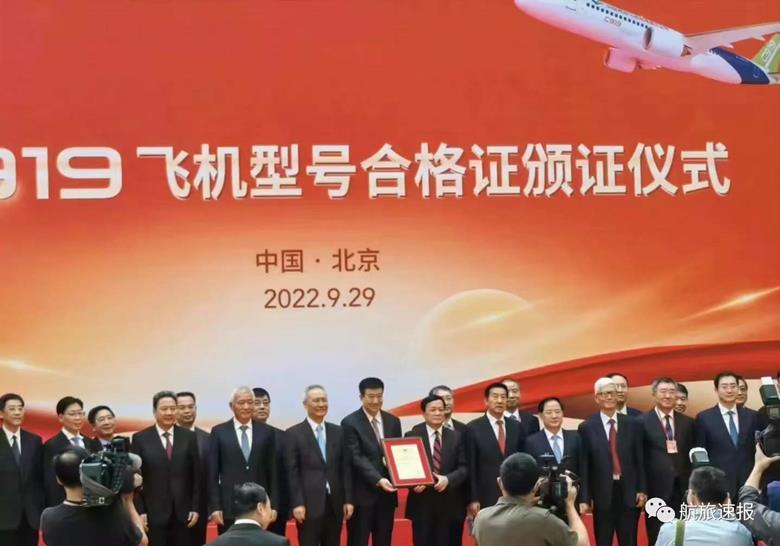 The Civil Aviation Administration of China (CAAC) has issued the Commercial Aircraft Corporation of China (Comac) with a type certificate for the Comac C919 commercial passenger aircraft, with the country's president, Xi Jinping, using the milestone to promote the country's technological prowess.
China's state-run news agency Xinhua says Xi met with Comac officials today on the eve of tomorrow's National Day celebrations in China.
It quotes Xi as saying China must continue to "strive to climb to the top of the world's science and technology."
He also emphasised safety and quality and called on the country to make even greater technological break-throughs so China can become an even stronger manufacturing power.
The CAAC and Comac have yet to officially confirm the C919 has received its type certificate, preferring to let the media attention focus on Xi.
But pictures online show the official ceremony for issuance of the type certificate occurred in Beijing yesterday.
Comac earlier this month flew two C919s – local registration B-001F and B-001J – from Shanghai to Beijing, leading to unattributed news reports in China that issuance of the type certificate would be as soon as this month; something that Smart Aviation Asia Pacific reported on 19 September.
The launch operator for the C919 is Shanghai-based China Eastern Airlines. It is unclear when it will take delivery of the first aircraft, but first aircraft delivery usually occurs straight after the aircraft is certified.
The C919 is a 150-190 seat commercial passenger aircraft that it is a direct competitor to the Airbus A320neo and Boeing 737 Max. Like its two western competitors, the C919 is powered by CFM International Leap engines and also has many other western made systems, such as the avionics system and landing gear.
China continues to take delivery of A320neos but has stopped receiving 737 Max aircraft, even though the CAAC has lifted its grounding of the 737 Max. Boeing's inability to get Chinese carriers to take delivery of its narrowbodies on order comes at time when US-China political relations are at a low point. China's president has made it clear he wants China to develop its own technology and products.
Feature picture, from Weibo, shows yesterday's ceremony for issuance of the C919 type certifcate
Related articles:
Certification of China's C919 is imminent (19 September 2022)
Related posts
SUBSCRIBE TO OUR NEWSLETTER