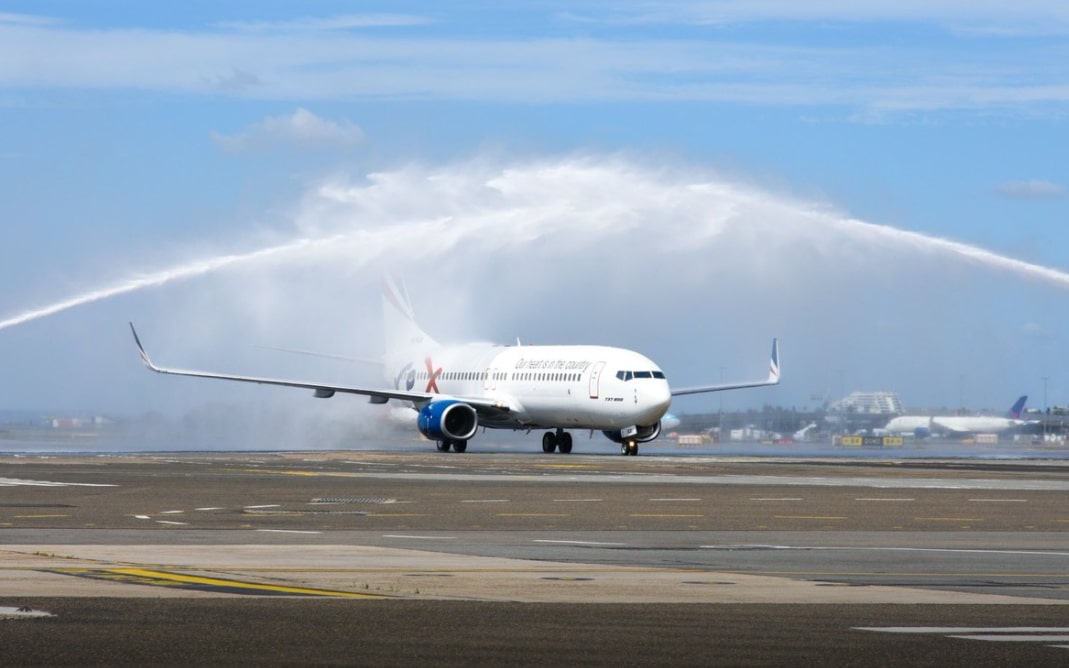 Regional Express is accelerating the introduction of Boeing 737s in its fleet, after experiencing a strong increase in passenger revenue in July on domestic trunk routes, and it has flagged its intention to also increase competition against Qantas group on regional routes.
The airline's pre-audited base passenger revenue on domestic trunk routes, which it serves using a fleet of six Boeing 737-800s, almost doubled in July to A13.6 million (US$9.5 millon) as compared to A$6.87 million which is the average monthly revenue it received in April-June period, Rex says in a statement to the Australian stock exchange. The passenger load factor on the 737s was 86%, it adds.
"With this in mind, we have decided to accelerate the introduction of further aircraft to our domestic fleet. Our seventh Boeing 737-800 will enter service later this month and we are in advanced discussions to lease another two for later this year," Rex executive chairman Lim Kim Hai says in the statement.
He says Rex expects its 737 passenger numbers to further increase thanks to some new corporate customers it has secured and some new tie-ups with travel agents.
Rex is competing on domestic trunk routes with 737-800s in competition against Qantas Airways and Virgin Australia.
It is also involved fierce competition against QantasLink on some regional routes. QantasLink has expanded into several regional markets using its De Havilland Aircraft of Canada Dash 8-200/300/400s. Rex has since withdrawn from some marginal regional routes, arguing the passenger volumes are too low, to support two carriers but there are other regional routes where it has remained.
Despite the increased competition on regional routes, Rex says "July's revenue and passenger numbers [on its regional routes] were almost identical to that of July 2019, the latest comparative month before the COVID pandemic."
It says it is doing "about 4% less flying [on regional routes but] the revenue per flight and the load factor have both improved by 8% and 7% respectively."
Lim says: "Our great performance in the regional markets also validates our decision to stand our ground against Qantas, which flooded the market on marginal regional routes in an attempt to destabilise us. Not only did their plan not succeed, but we are now having record passengers and revenues on our regional network by concentrating on the larger regional routes in direct competition with them."
"Later this month we will commence servicing Melbourne-Devonport, breaking QantasLink's monopoly on the route for the last 17 years and we intend to fly to other regional cities that are currently monopolised by QantasLink," says Lim. Devonport is a city in northern Tasmania.
Rex in its latest statement stops short of giving a financial forecast for the current fiscal year, that started 1 July, but Lim says: "Barring further external shocks…[we] believe that both our domestic and regional operations will be profitable this fiscal year. This is quite a feat, considering that we only properly restarted domestic [737] operations in February."
"Our results should be further boosted by the launch of our frequent flyer programme in the coming months as well as enhanced passenger and freight contributions from our expanding network. We also can look forward to larger enrolments at our pilot academies from international cadets as airlines start to ramp up strongly again," he adds, referring to the international pilot training school, the Australian Pilot Academy, that it owns.
Feature picture, from Rex, shows the arrival of its very first 737-800.
Related Stories:
Australia's Regional Express Partners With Dovetail Electric Aviation For Turbine To Electric Powerplant Conversion (21 July 2022)
Australia's Regional Express Buying Cobham Aviation Services' FIFO Charter Business (15 July 2022)
Australia's Rex Pilots Poised To Take Industrial Action (23 June 2022)
Australia's Rex Increases Capacity On Regional Routes (16 June 2022)
Australia's Rex Axing Five More Regional Routes (30 May 2022)
Australia's Rex May Exit More Regional Routes (26 May 2022)
Australia's Rex Attributes Close Of Route To Increased Competition (24 May 2022)
Australia's Rex Attributes Closure Of Route Due To Qantas (20 May 2022)
Qantas Airways Expands Domestic Network (31 March 2022)
Australia's Rex Gets Six Out Of Seven Queensland Regulated Routes (23 November 2021)
Australia's Rex Appoints Legal Team To Pursue Actions For Qantas Anti Competition Behaviour (5 August 2021)
Related posts
SUBSCRIBE TO OUR NEWSLETTER