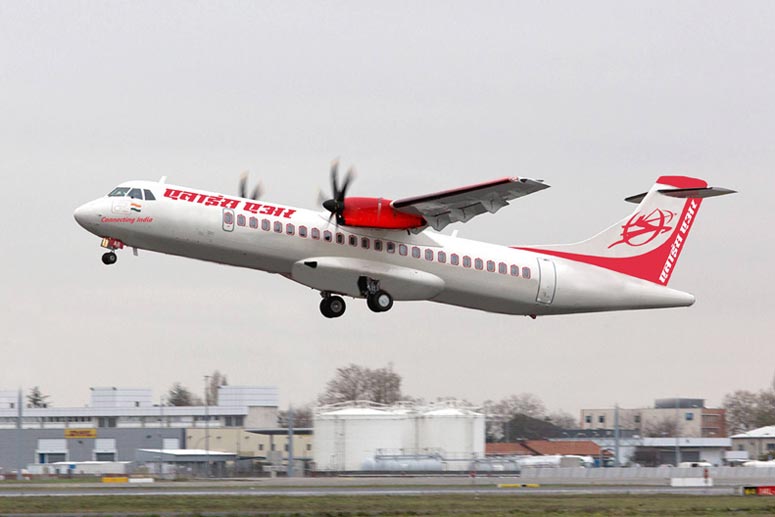 Air India's regional subsidiary Alliance Air is seeking to lease two brand new ATR 42-600 aircraft, a move that suggests the carrier is planning to expand into thinner routes with more challenging airports.
The carrier has issued a tender that says it is seeking to lease two brand new ATR 42-600s, with a lease period of 12 years, and that it needs the aircraft delivered by May 2022 at the latest.
It says it wants these new aircraft to have ATR's Armonia cabin, that comes as standard with the -600 model, and it wants the aircraft configured with 48 passenger seats with 30in seat pitch.
The tender document says Alliance Air plans to have the aircraft maintained mostly by Air India Engineering Services.
It makes no mention of the routes the aircraft will be deployed on, but says the proposed utilization is 2,400 flight hours per year and the average sector length will be 189nm (350km). Submissions for the tender need to be made by 16 November, it says.
Alliance Air currently operates a fleet of 18 ATR 72-600s, so the move into the smaller model is a new fleet development.
The state-owned carrier has been launching new routes in India, under the government's UDAN regional connectivity scheme, particularly in northeast India, a remote and mountainous part of the country. In this area, the airports are often challenging with short runways and steep approaches.
The ATR 42, being smaller aircraft than the ATR 72, is able to access shorter runways.
In a separate development, Alliance Air signed a memorandum of understanding last month with India state-owned aircraft manufacturer Hindustan Aeronautics (HAL) to lease two HAL-manufactured Dornier 228s.
It said at the time it planned to use these 19-seat aircraft to serve remote airports in northeast India's Arunachal Pradesh province under the UDAN scheme.
The Indian Government has reached an agreement to sell Air India to Tata Group, but Alliance Air is not part of the sale.
Picture from Alliance Air shows one of its ATR 72-600s
Related posts
SUBSCRIBE TO OUR NEWSLETTER